Bell Demo: Arrest of City Government Delights City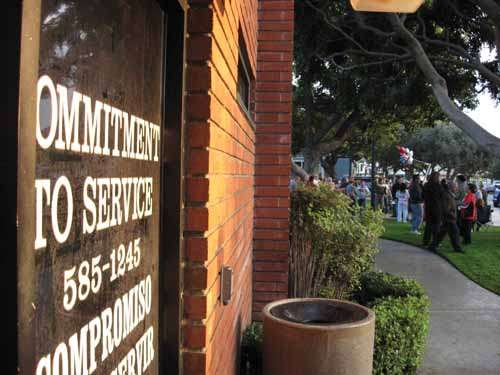 Lots of fun at the Bell Association to Stop the Abuse (BASTA) rally last night to celebrate the arrests of Robert Rizzo, Angela Spaccia and six other city officials. Highlights included:
Robert Rizzo celebration in pictures: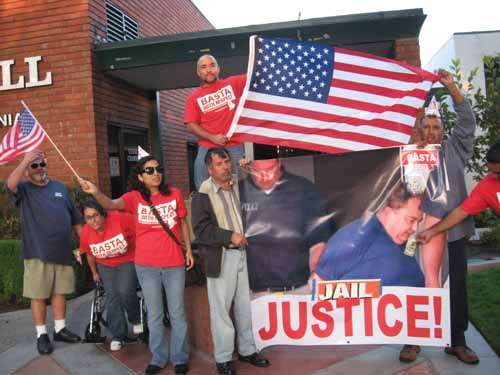 Budding capitalism: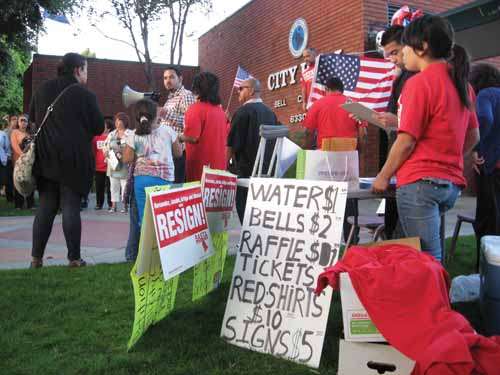 Carpet news coverage: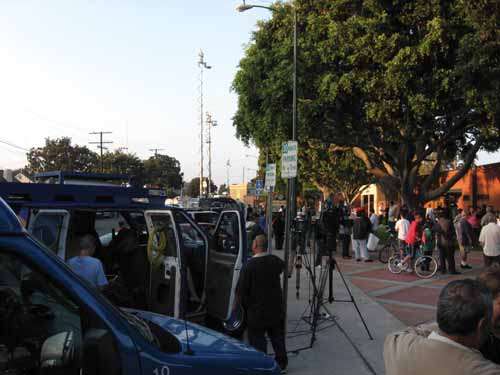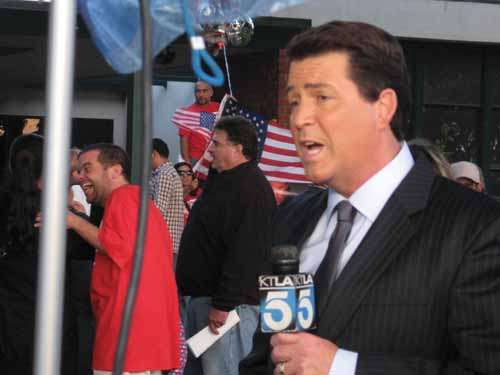 Salutes to America including a pledge of allegiance in English: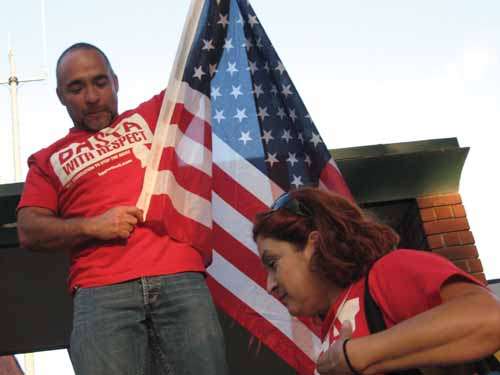 A toast to the arrests: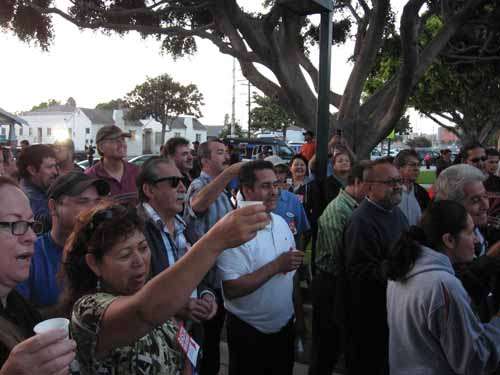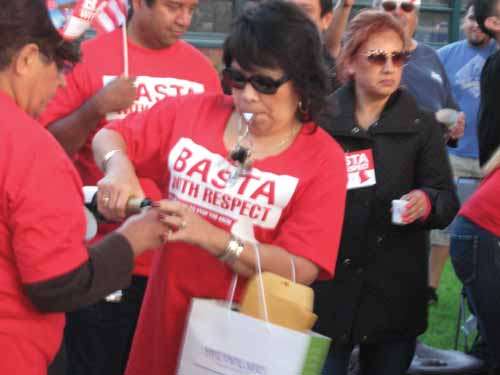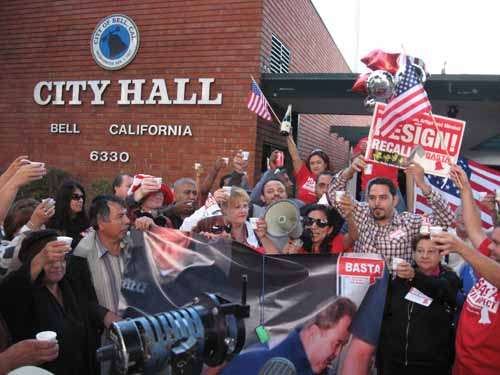 And what media event would be completely without multiple confirmed hotnesses?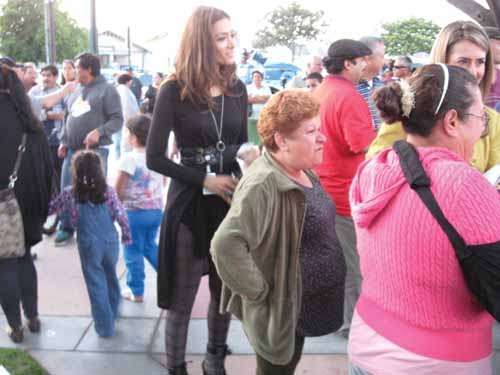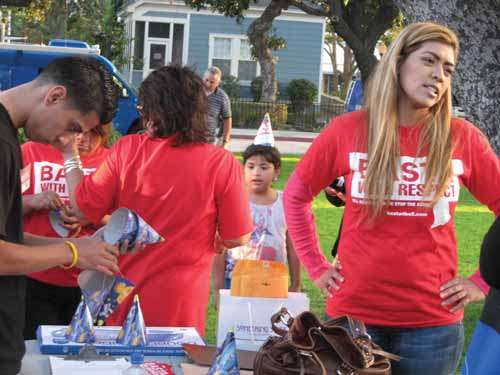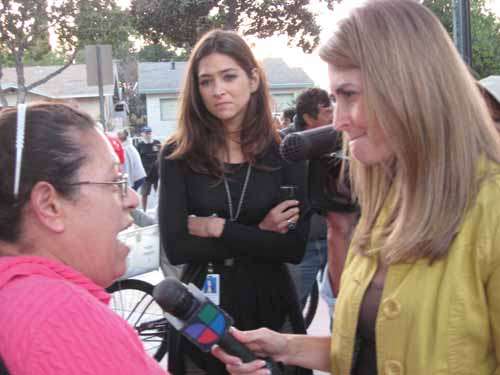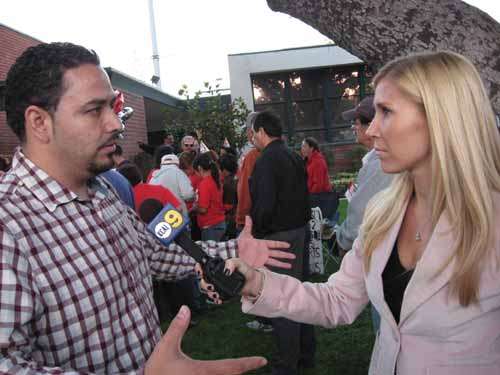 The man being interviewed in this last picture is BASTA co-founder Dale Walker. BASTA is circulating a recall petition that Walker and our friend Cristina Garcia expect to file by the end of this week. That would pave the way for a new city government to be elected as soon as January. "As long as they haven't been convicted, they're still our city council," says Garcia. She also points out that the arrested administration's regime of punitive fees and taxes – including a 10 percent utility tax to pay for police department that fields only 43 officers – remains in place.
Like the Tea Party which it does not resemble in any way, the Bell uprising has reached the identity crisis phase of its existence. At the same time last night's rally drew a few hundred BASTA supporters, a gathering of the non-affiliated Bell Resident Club attracted about 100 people at nearby Veteran's Memorial Park. The Resident Club is led by Nestor Valencia, a health care administrator who has been challenging the city's machine for several years. While the two groups are united on wanting to see the recall go forward, Valencia says BASTA is too close to the remnants of the old machine, noting that the threads of Bell's corruption run though various nearby towns in southeast L.A. County.
Last week the League of California Cities published its survey results [pdf] of city manager salaries in the Golden State. Tellingly (though without explanation) the survey included no information for Bell or Maywood, but the information for Bell's neighbors is interesting:
Vernon (pop. 96) interim City Administrator Mark Whitworth makes $211,372.
Cudahy (pop. 27,000) City Manager George Perez makes $241,172.
Huntington Park (pop. 64,617) City Manager Gregory D. Korduner makes $228,369.
Bell Gardens (pop. 46,786) City Manager G. "Steve" Simonian makes $246,681.
City of Commerce (pop. 13,581) City Administrator Jorge J. Rifa makes $209,500.
Montebello (pop. 66,000) City Adminstrator Richard Torress makes $211,921.
Bellflower (pop. 77,110) City Manager Michael Egan makes $222,494.
Through a combination of term limits and the incestuous nature of L.A.'s political class, local careers tend to follow a musical-chairs pattern: from city council to state assembly to board of supes to mayor, back to another city council, and so on. Southeastern L.A. County has been turned into a "dumping ground for Democrats who don't live in our area," says Valencia, a registered Democrat. "The powers that be uptown think that they can marginalize our community, that we are a bunch of pendejos who don't know politics, don't know the constitution, and don't vote."
That could be changing. One of the striking things about Bell is that it's a nicely maintained little town: pretty houses, spiffy stores, and clean parks. Sooner or later Bob Rizzo will point to Bell's general livability as evidence that he was worth a million dollars a year. I have less confidence in the power of politicians to bring about positive outcomes, and give credit to the residents, who deserve better than they've been getting from their out of control civil servants.