Bell, CA Officials Arrested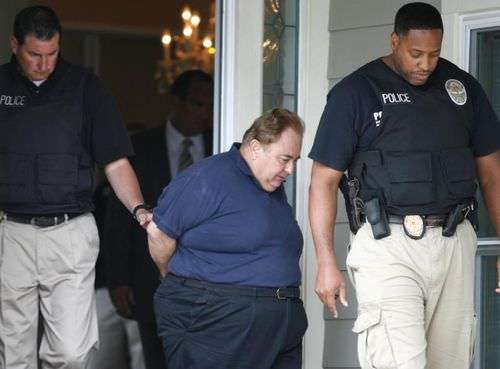 The major players in the Bell, California corruption scandal—including million-dollar city manager Robert Rizzo—have been arrested and charged in connection with mishandling of $5.5 million in city funds. The L.A. Times reports:
Rizzo has been charged with 53 counts of misappropriation of public funds and conflict of interest.

Among those arrested were former city administrator Robert Rizzo, former assistant city manager Angela Spaccia, Mayor Oscar Hernandez, councilmembers George Mirabal, Teresa Jacobo, Luis Artiga and former councilmembers George Cole and Victor Bello.

[…]

[L.A. County D.A. Steve] Cooley has said his office was examining whether the various financial transactions in Bell amounted to thefts of public funds. The office is also looking into allegations of voter fraud and whether the high salaries earned by Rizzo and others were legal.

Last week, California Atty. Gen. Jerry Brown filed a lawsuit against current and former Bell city leaders demanding that their pay contracts be nullified and that they pay back some of their salaries and pension benefits.
Daily Pilot's Joseph Serna describes the arrest of Rizzo, who as you can see has actually grown superhumanly fat from sucking dry the marrow of the productive class.