OK, How About "Jobs Saved But Uncreated"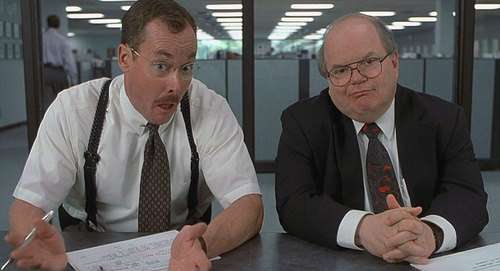 Butting factoids on unemployment today:
The outplacement consultancy Challenger, Gray & Christmas says planned layoffs as of the end of August were the lowest they have been since June 2000. Here's the company's report [pdf]. Here is Reuters' coverage:
The number of planned layoffs at U.S. firms fell 17 percent in August from the prior month and hit the lowest level in 10 years, a report on Wednesday showed.

Employers announced 34,768 planned job cuts last month, down from 41,676 in July, outplacement consultancy Challenger, Gray & Christmas, Inc. said.

It was the first month-on-month decline since April, when planned job losses had hit a seven-year low, and the lowest level since June 2000.
Not sure what "planned layoffs" are? A Challenger spokesman says that 34,768 figure captures all layoffs that occured in August, plus layoffs that have been announced through the next few months, as gleaned from news stories and press releases.
Meanwhile, Automatic Data Processing's National Employment Report says these here United States shed 10,000 productive-sector jobs from July to August. ADP's report [pdf] says the numbers might look even worse when the non-productive sector gets counted by the Bureau of Labor Statistics on Friday:
Private sector employment decreased by 10,000 from July to August on a seasonally adjusted basis, according to the latest ADP National Employment Report® released today. The estimated change of employment from June to July was revised down slightly, from the previously reported increase of 42,000 to an increase of 37,000.

The decline in private employment in August confirms a pause in the recovery already evident in other economic data. The deceleration in employment was evident in the major sectors and by size of business. This month's decline in employment followed six monthly increases from February through July. Over those six months the average monthly gain in employment was 37,000 with no evidence of acceleration.

Unlike the estimate of total establishment employment to be released on Friday by the Bureau of Labor Statistics (BLS), today's figure does not include the effects of federal hiring — and now firing — for the 2010 Census. Hiring for the census peaked in May. For this reason, Friday's figure for the change in nonfarm total employment reported by the BLS might be weaker than today's estimate for nonfarm private employment in the ADP National Employment Report.
ADP's figures—for nonfarm jobs—are drawn from an anonymous subset of more than 340,000 U.S. businesses with more than 21 million U.S. employees working "in all private industrial sectors."
Don't know what conclusions we can draw for Average American. Maybe: If you're looking for a job you're more screwed than ever, but if you've already got a job your chances of keeping it look slightly better.