Bartenders Belch Fire, Wind Up in Cuffs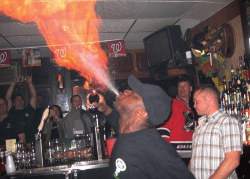 Two Virginia bartenders face up to 45 years in prison for their Friday night firebreathing act. The men were hauled off in cuffs around midnight in late July without any warning from police or fire marshalls.
Jimmy's Old Town Tavern bartenders have performed the fire-breathing act for 13 years, at first doing the tricks on special occasions like birthdays or to honor a fallen fireman, police officer or soldier, [owner Jimmy] Cirrito said. By 1999, the fire-breathing bartenders had become a Friday midnight tradition, he said. The bar uses the fire-breathing bartenders on its advertisements…. Fairfax County fire investigators charged Tegee Rogers, 33, of Herndon, and Justin Fedorchak, 39, of Manassas, with manufacturing an explosive device, setting a fire capable of spreading, and burning or destroying a meeting house. They also were charged with several state fire code misdemeanors.

Both men have worked at the tavern nearly since it opened. They both recently became fathers and are very anxious about facing serious criminal charges…
These guys—reliable bartenders with a special skill that has been drawing Friday night customers to a local bar for more than ten years—could potentially wind up with rap sheets that imply they are Al Qaeda agents.