California Roundup: PG&E—Friend of the Environment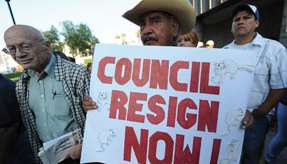 * Bell once again worse than you can imagine. Remember all those residents of the city of Bell who griped to Reason TV about shady tax hikes? California Controller John Chiang says residents of the town (where annual earnings average around $30,000) overpaid by $3 million on their property taxes over the last three years.
* The new book California Crack-Up by Joe Mathews and Mark Paul gets a thumb-sideways review from Loren Kaye at Fox & Hounds, who questions the need for a new constitutional convention, disputes the belief that Prop. 13 is responsible for the state's troubles, and chides the authors for going too easy on the state's abominable legislature.
* Regulate us harder; we love it! Calbuzz says yes to new online disclosure requirements by California's Fair Political Practices Commission.
* Global warming bogosity: Dan Walters suspects Gov. Arnold Schwarzenegger is holding off on enforcing the state global-warming law until after Prop. 23 (a moratorium on that law) goes down to its expected defeat.
* Son of Enron? Speaking of Prop. 23, the notion that the initiative is backed only by "out-of-state oil interests" is pretty popular. Jon Coupal says if you think the people supporting Prop. 23 are bad, get a load of the opponents—including irrepressible nature bunny PG&E and politically connected plutocrat Thomas Steyer.