Did You Know the Democrats Had a Latino Problem?
I'd heard rumors, but I had no idea the numbers were this dramatic: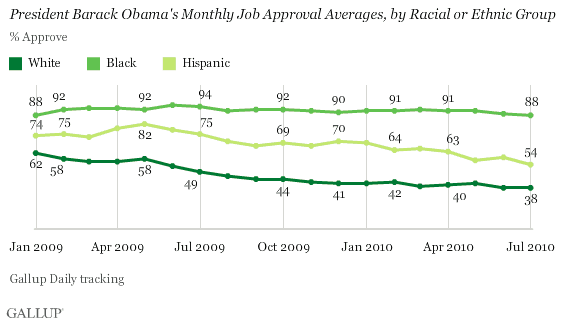 From Jane Hamsher:
According to Gallup, Obama's approval ratings among Hispanics has dropped 20 points this year. They note that "the two major drops in Hispanics' approval of Obama this year — in February and May — coincide with two periods when the president was under fire for not doing enough to promote comprehensive immigration reform in Congress." […]

The Democrats are now on an all-out crusade to blame the Republicans for blocking comprehensive immigration reform. But the truth is, they couldn't get their own caucus to support it. As Jonathan Martin wrote, "[F]or Democrats to pass immigration reform before November, party leaders would have to force members from conservative-leaning districts to cast yet another tough vote that could raise the ire of swing voters." There was no way that was going to happen.

And so we have cable news is full of attacks Sharron [Angle] for shutting out Hispanic media, and Harry Reid saying he doesn't know "how anyone of Hispanic heritage could be a Republican." With GOP establishment stalwarts like Lindsey Graham talking about repealing the 14th amendment, that's not without cause.

Meanwhile, Reid reconvened the Senate this morning just to pass the $600 million border security bill that puts National Guard troops and drones on the border. […]

[And] America's Voice reports that deportations have skyrocketed under the Obama administration[.]
Hamsher suggests that the time-honored strategy of rhetorically backing base-pleasing legislation with no prayer of passage has worn thin, given that Obama has been able to twist arms on other bills of note. Though I think that A) immigration policy is harder, and B) I'm guessing there are other significant reasons for the double-digit plunge.
Reason on immigration here.