Capitalist Cancer Kid Sells Lemonade to Pay for Chemo, Co-opts Cops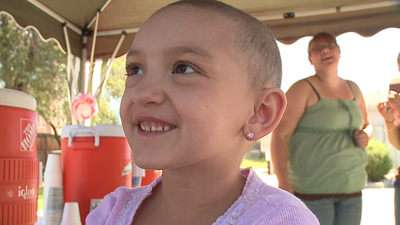 Capitalist cancer kid Jane Poole of Colorado is setting up a lemonade stand to help cover some of the cost of her treatment for leukemia:
Jane said she planned to sell "a lot until I sell out." She added, "And if I still have bracelets, I can sell them out too. And if I'm all done, I'll tell everyone that I had a great day selling lemonade!"
And, as a reminder that not all kid lemonade ventures end in encounters with the law and tears:
Jefferson County sheriffs and Arvada police even showed up to pitch in.
Still, it might be a good idea to make sure there are some anarchists around. Just in case.