Another Great Day For Media Freedom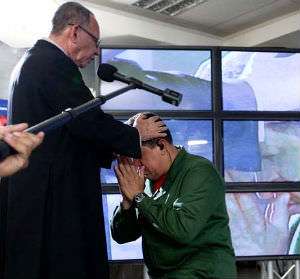 When they are not forging weapons deals and scheming to create a Russo-Latin American space program, the allied governments of Vladimir Putin and Hugo Chavez are cracking down on free speech in their respective authoritarian countries. First, in Russia's "managed democracy," police today seized 100,000 copies of an anti-Putin book written by opposition politicians Boris Nemtsov and Vladimir Milov (available for download here, in Russian only). Details on this latest spasm of non-communist media Sovietization via The Telegraph:
Copies of "Putin. The Results. 10 Years on", written by opposition politicians Boris Nemtsov and Vladimir Milov were "intended for participants of the [Saint Petersburg International Economic Forum]", starting Thursday, according to Olga Kurnosova, head of the city's branch of the opposition United Civic Front, said.

The reasons for the seizure "are not very clear", she said.

The book, which has a total print-run of one million copies, aims to "tell the truth about the real results of the leadership of Putin and the tandem", Mr Nemtsov, a former deputy prime minister, wrote in his blog on Monday.

Mr Putin served two terms as president from 2000 onwards before being elected as prime minister. He is still viewed as Russia's strongest political figure in a power tandem with his ally President Dmitry Medvedev.
After Hugo Chavez twice shuttered Venezuela's oldest television station, RCTV—first on the terrestrial band, then on cable—only one opposition television station remains. But now the head of Globovision, Guillermo Zuloaga, has fled Venezuela after being accused of financial irregularities relating to a used car business. Or some such nonsense. Last year, Zuloaga was arrested for making "offensive and disrespectful" statements about the Bolivarian revolution; now he's accused of fraud. Curious. The Wall Street Journal has details:
Guillermo Zuloaga, the owner of the last major television station in Venezuela critical of President Hugo Chavez, has fled the country after a warrant was issued for his arrest, a station representative confirmed Wednesday.

"He's no longer in Venezuela," said Edith Ruiz, director of institutional relations at Zuloaga's Globovision television station. She said his exact whereabouts outside of Venezuela are unknown.

Observers are now wondering how much longer the government may allow Caracas-based Globovision to remain on the air, given its owner is an international fugitive. Government critics say shutting down the anti-Chavez station, if only temporarily, might work well for the ruling socialist party ahead of September legislative elections, which promise to see tight races.

Authorities on Friday ordered Zuloaga arrested so he could answer to a year-old accusation of irregularities related to a car dealership owned by him and his family. Zuloaga denies the allegation, and calls it another example of "judicial terrorism" by the Chavez government.

For the past several days, Chavez has publicly urged Zuloaga, one of the country's most influential people, to turn himself in, and said that the businessman would be considered innocent until proven guilty.

But Monday night, Zuloaga spoke on Globovision by telephone from an unidentified location, and said he has no plans to hand himself over to Chavez.

"I've reached the conclusion that with my surrender I won't be doing any favor to Globovision, to the country or to my family," he said.

Zuloaga added the government's accusation against him was trumped up for the sole purpose of shutting down Globovision, which is effectively the only local channel where criticism of Chavez is heard.