When Blue-State Zoning and Super-Cool Green Architecture Collide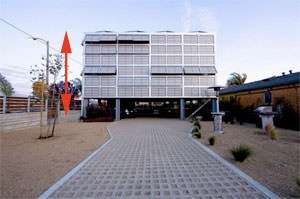 This purportedly carbon-neutral building, in Venice, California, is three and a half feet too tall, according to Los Angeles zoning restrictions. Removing the solar panels would knock it down 18 inches, but that might not be enough for the City Council. The architect says, "To fix it would cost more than it cost to erect it in the first place." Read more about it at L.A. Curbed.
Hat tip to Shawn Richardson.