Eminent Domain Abuse Finally Forces Daniel Goldstein Out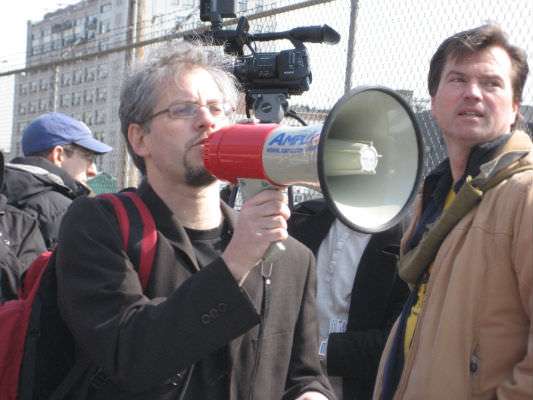 Daniel Goldstein, the Brooklyn homeowner who has led the fight against New York's despicable eminent domain abuse in the Atlantic Yards case, reached a settlement yesterday with the Empire State Development Corporation and will vacate his home by May 7th in exchange for $3 million. Here's part of the statement that Goldstein issued today:
On March 1st, after years of litigation, ESDC took title ownership of my home. From that day on, I no longer owned my apartment but instead became a tenant of the State.

At that time, with that action on Ratner's behalf, there was nothing I could any longer personally do with my home that would stop or impact the project. Staying in my home until the sheriff came to evict my wife, child and I would have accomplished nothing at all for the fight but would have severely harmed us.

After March 1st, it was inevitable that we would be forced out; it was just a matter of when.

On April 9th ESDC filed papers requesting that the court evict me on May 17th. Wednesday morning my attorney argued that the court should not grant that eviction. After the argument, Judge Gerges made it crystal clear that he wanted resolution between me and ESDC/Ratner—that day—as to when I'd leave my home.

So instead of being evicted in about 27 days and then being forced to go to court to hope to get close to fair market value for my home (as opposed to the extremely lowball "just compensation" offered to me by New York State, which was nowhere near fair market value), I agreed to leave in about 17 days. That agreement to leave ten days sooner avoids further litigation over "just compensation," which would have cost me more time and money while accomplishing nothing for the fight against the project.

I did not sell my home today. I had no home to sell as the state took my home on March 1st. Contrary to what Ratner and ESDC might want people to believe, eminent domain was used on me and many others. My home was seized by the government to give to a private developer.

What I did do was agree to leave my home rather quickly in return for a payment. What I did do was what I needed to do as a responsible husband and father to make sure that my family could make an orderly transition to a new home in Brooklyn. I was left with no good choice by the ESDC or Judge Gerges.

I have always promised that once the legal options to save my home and the homes and businesses of my neighbors were extinguished, I would have to turn my attention to what was best for my family, after years of neglecting our interests. That is what I did on Wednesday.
You can read the full statement here.
Much like the news that Freddy's Bar is closing at the end of the month, this is sad but not really shocking. These folks were up against an atrocious Supreme Court precedent, the state and city of New York, and a corrupt and politically-connected real estate tycoon. Thanks to their long battle, this shameless case of eminent domain abuse got some of the scrutiny that it deserves.