Too Drunk to Fail: NYC Bar Teaches Econ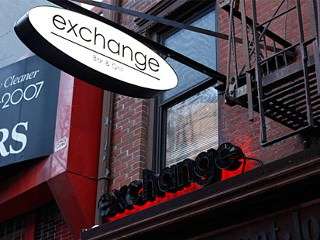 Bottoms up for econ! A new bar in Manhattan will offer drinks at prices set by an internal market.
What's the value of a pint of beer? Let the market decide, says a new restaurant in Manhattan where prices for food and beverages will fluctuate like stock prices in increments according to demand.

Customers can move prices for all beverages and bar snacks such as hot wings ($7 for 6 pieces) or fried calamari ($9). The prices will fluctuate in $.25 cent increments, but will most likely plateau at a $2 change in either direction.

A glass of Guinness starts at $6 but could be pushed to a high of $8 or a low of $4, depending on popularity.
The floor and ceiling on the prices makes this much more of gimmick (which the owners admit) than anything significant. Unless they allow Wall Street savvy patrons to really get creative, we'll never know what kind of booze-based instruments might emerge. Patrons might create hops-backed securities. Corona default swaps. Gin futures with an option to buy the equivalent amount of tonic. A phone number futures market on the digits of that drunk blond chick at the end of the bar.
It can't last forever, though. Eventually regulators will be called in when patrons become Too Drunk To Fail.