Astroturf Russian Youth Movement Not Lovin' McDonald's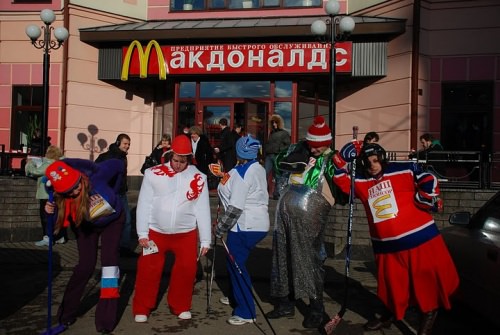 Not content with scapegoating their Olympic officials for Team Russia's poor performance, a government-sponsored Russian youth group has turned on McDonald's. To make their case against the international grease-merchants, the group staged Olympic reenactments with obese athletes outside a Moscow McDonald's. From Radio Free Europe/Radio Liberty:
On March 3, a handful of activists from Zdravmol, a youth organization and a joint project of the Federal Agency for Youth Policy and the obstreperous youth movement Nashi, gathered in front of a Moscow McDonald's and chanted: "Thank you, McDonald's, for our 11th ranking." They were venting their anger at one of Russia's poorest medal tallies ever at a Winter Olympics – only three golds at the Vancouver games. 

Zdravmol was founded in December 2009 with the aim of raising awareness of health matters among young people. Flash mobs are among its favorite tactics.
No word on whether they objected specifically to width of McDonald's fries.