It's a Nutter Idea, and It Just Might Not Work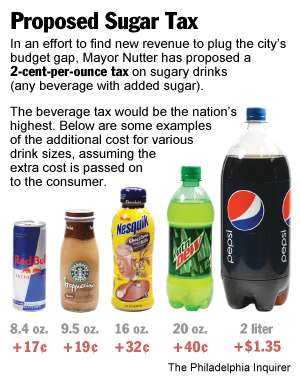 Philadelphia Mayor Michael Nutter is pushing a 2-cent-per-ounce tax on sweetened beverages, which would be the highest such levy in the country. The Philadelphia Inquirer says it's a way to "treat the city's weight and wallet problems…with the same remedy." You could also say it's a way to take people's hard-earned money while simultaneously meddling in their personal choices, but politically that might be less appealing. Nutter's proposed tax is 35 times the state's beer tax, 10 times as heavy as Chicago's soda tax, and twice the rate advocated by anti-fat crusader Kelly Brownell, who is overjoyed at the thought of forcing poor people to forsake their favorite beverages. If implemented as intended, Nutter's tax would raise the price of a can of Coke by 32 cents and the price of a two-liter bottle by $1.35. But there is some question whether consumers actually would see those price hikes, since the levy would be collected as a "business-privilege tax" rather than a sales tax to avoid the need for approval from the state legislature. Retailers might decide to compensate by raising prices across the board instead of focusing the burden on politically incorrect beverages.
More on soda taxes here.