Joe Biden: A Man And a Train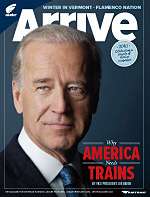 Vice President and former Delaware Sen. Joe Biden is still darkening the front cover of the current ish of Arrive, the sad-sack Amtrak mag that clutters Acela trains and Northeast regional service trains.
Here's a bit from his essay on "Why America Needs Trains":
One year, on my birthday, my daughter had planned a party for me. She really wanted to give me a gift and blow out candles. Senator Bob Dole was the Majority Leader at the time, and we were voting that night. I told him that I really had to be home for my daughter, which meant that I needed to catch the 5:54pm train. Senator Dole backed up the votes until 9pm. I boarded the train and, in Wilmington, my daughter was standing there on the middle platform. She and my wife sang "Happy Birthday," I blew out the candle, took a piece of cake, operned her gift, gave her a kiss, and caught the 7:23pm going south—and managed to be there for the 9pm vote.
Yes, that is exactly why America needs trains, especially as part of a system that costs taxpayers as much as $462 per rider on certain routes. What a heartwarming story.