Another Way of Looking at the Stimulus's Impact on Public vs. Private Employment
Like some kind of chart-manufacturing econo-robot, Veronique de Rugy is back again with another look at stimulus and employment over at Big Government. The red line shows the trend of public-sector employment, the blue line is private (with different numerical baselines).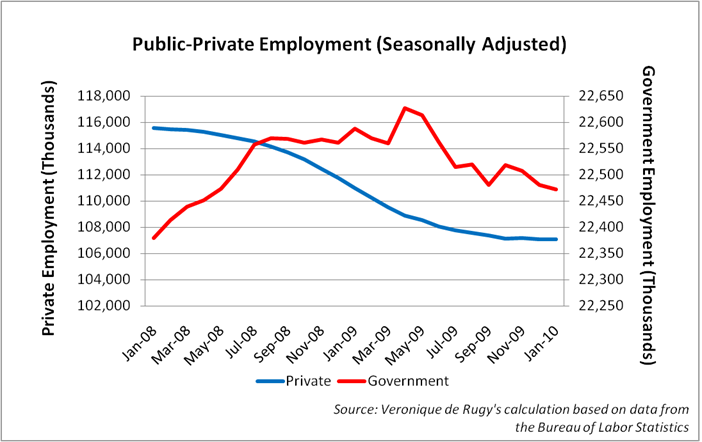 De Rugy explains:
[D]uring the last two year the number of public employees has increased from 22.3 million in January 2008 to 22.4 million in January 2010, after peaking at 22.6 million in July 2009. Not that impressive you will say. Well, excuse me but it certainly beats being a private employee during that same period of time. The number of private jobs decreased from 115.5 million in January 2008 to 107 million. That a lose of 8.7 million jobs in the private sector while the public sector gained almost 100,000 jobs. […]

Now, let's me ask this question again: who are the big losers in this recession and who has ultimately benefited from the big government intervention in our economy?