Hey Honey, Instead of Going Out For Dinner On Valentine's Day, Why Don't We Just Stay Home and Hate Democrats Together?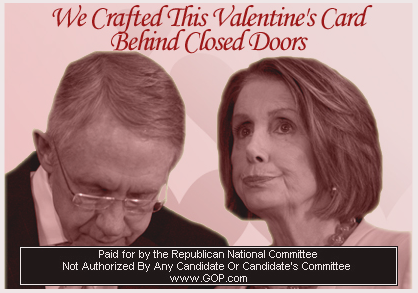 Tired of the same old boring Hallmark cards with their cheap jokes and their generic sentiment? Maybe the way to inject some romance into your life this year isn't to say, "Honey, you're the love of my life," but rather, "Democrats sure are stupid, aren't they?"
If that sounds good to you, then you're in luck! At GOPValentine.com, The Republican National Committee has put together a handy series of Valentine's day cards featuring snarky commentary about prominent Democrats so that you and your special right-wing sweetheart can bond over shared amusement at those silly, silly liberals. Forget flowers and chocolate: true love is snickering at ACORN jokes together.