Children's Souls Swallowed Up by Cardboard, Plastic, Static Electricity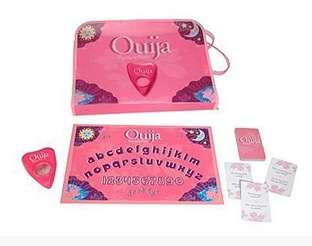 Hilarious article from Fox News about concern over a new Ouija board game marketed at young girls:
A pink version of the popular Ouija board game has some critics seeing red.

The children's sleepover staple — sold by Hasbro since 1967 — now comes in hot pink, an edition released two years ago that gets tweens to call on "spirits" to spell out answers to life's pressing questions.

It's designed for young girls ages 8 and older, but some say the mysterious product is a "dangerous spiritual game" that opens up anyone, particularly Christians, to attacks on their soul…

"There's a spiritual reality to it and Hasbro is treating it as if it's just a game," said Stephen Phelan, communications director for Human Life International, which bills itself as the largest international pro-life organization and missionary worldwide. "It's not Monopoly. It really is a dangerous spiritual game and for [Hasbro] to treat it as just another game is quite dishonest."

Phelan, who has never played the game, said the Bible explicitly states "not to mess with spirits" and that using a Ouija board will leave a person's soul vulnerable to attack.

"All Christians should know, well everyone should, that it's opening up a person to attack, spiritually," he said. "Christians shouldn't use it."

Asked how the game differed from magic kits or Harry Potter-themed merchandise, Phelan replied, "The difference is that the Ouija board is actually is [sic] a portal to talk to spirits and it's hard to get people to understand that until they actually do it. I don't pretend to know how it works, but it actually does."
Well, no. It actually doesn't, as Penn & Teller demonstrated with a brilliant little experiment on their Showtime program Bullshit!