Nick Gillespie on Bill Moyers Journal Tonight, 9PM ET, Talking Citizens United & Campaign Finance With Larry Lessig
Reason's Nick Gillespie will appear on Bill Moyers Journal tonight, discussing the Citizens United Supreme Court Ruling and related issues of campaign finance reform with Harvard law prof and cyberspace guru Larry Lessig. Moyers' show airs on PBS at 9PM ET (check your local listings).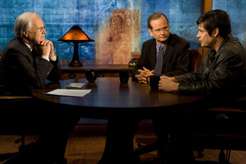 From Moyers' site:
The Supreme Court's January 2010 decision of the Citizen's United v. Federal Election Commission on campaign finance regulations has caused a stir around the political spectrum. A poll from Angus Reid Public Opinion found that 65 percent of people surveyed disagreed with the Supreme Court's decision — 67 percent of Democrats, 63 percent of Republicans, and 72 percent of independents.

Libertarian journalist Nick Gillespie says all that worry is misplaced in a much-watched video "Three Reasons Not to Sweat Citizens United." "If you want to get bent out of shape about something, direct your ire at a massive and constantly growing government that has its hands in virtually every aspect of economic and social life in America," Says Gillespie.

Harvard legal scholar Lawrence Lessig disagrees, viewing the ruling as a another step in the takeover of democracy by big money. In an article for THE NATION entitled "How to Get Our Democracy Back: If You Want Change, You Have to Change Congress," Lessig calls for a constitutional convention to make public financing of campaigns the law of the land, "What both sides must come to see is that the reform of neither is possible until we solve our first problem first — the dependency of the Fundraising Congress."
Watch Reason.tv's video below.
Matt Welch appeared on Moyers' show with former Rep. Mickey Edwards (R-Okla.) to discuss conservative hypocrisy and GOP collapse. Watch here.
Gillespie appeared on Moyers to talk about libertarianism back in 2007. Watch that here.