D.C. Bag Tax Update: Now With More Porn Mags
The Washington Post tracks the predictable yet irrational response to the city's new 5 cent bag tax, aimed at reducing consumption and keeping the Anacostia River clean. As anticipated, people have lost their minds in incredibly inefficient ways:
Normally no penny-pincher, [D.C. resident Virginia Johnson] now maps her day's travels to avoid having to shop in the District; she has abandoned her beloved neighborhood grocery store, Harris Teeter on Capitol Hill, in favor of stores near her Virginia office -- even though she pays an extra 2.5 percent food tax there. And twice she has unwisely carried an armload of bagless food out of D.C. restaurants, with calamitous results.

In one case, to avoid paying an extra one-quarter of 1 percent on a $20 dinner, she said no to a plastic bag, stumbled in a hole outside a Sizzling Express lunch spot and watched a whole tray of sushi hit the deck in front of the eatery on Pennsylvania Avenue NW. The next day, jostled on a busy sidewalk, she lost her unbagged lunch in front of a Cosi at Dupont Circle.

"It's not rational, I know," said Johnson, a legislative affairs specialist at a federal agency and a self-described environmentalist who was already dedicated to recycling bags. "But this is where my zeal for conservation runs into my passion for small government. The bag tax makes me batty; I'll do a lot to avoid paying it."
And this:
Allen Purvis proudly boasts that he has not a paid a nickel since the fee was imposed, even though that recently required him to carry six loose bottles of Kendall Jackson chardonnay out of a liquor store on P Street in Georgetown. With $71 of wine at risk and the store owner looking on in horror, Purvis tucked the bottles in and under his arms and made it to his car.

"And then I went, 'Crap; it's locked,' " Purvis said. "I was definitely more fixated on not paying for the bag than on getting them to the car."

Purvis, like many shoppers, is also learning how much privacy was afforded by that once-free plastic film. He has become a sort of dry-goods voyeur.

"Now you can see what people buy," the retired lawyer said. "They've got a carton of milk, a can of SPAM. You wonder, 'What's he going to do with that SPAM?' "

Purvis said he will probably keep up his bag boycott until he buys something either too big or too embarrassing to carry unbagged.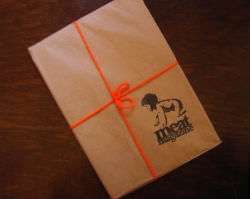 Speaking of which, the sex shop across the street from Reason's D.C. offices makes a cameo in The Wall Street Journal's reporting on the tax yesterday:
Pleasure Place, an adult toy store, so far isn't charging for bags—even though it has a license to sell food, including edible body frosting. "I'm not sure if it applies to me," says Cecilia Colglazier, the owner. Victoria's Secret, which sells mints, edible body icing and edible shimmer powder, along with its trademark negligees, isn't charging for bags either—at least not yet.
Of course, some kinds of brown paper bags—the bag of choice at sex shops the world over—are still untaxed. Sandwich shops that have seating, for instance, don't have to tax paper bags containing food. But even those* bags must be "100% recyclable, made of at least 40% post-consumer recycled content and say something like 'Please Recycle This Bag' in highly visible type on the outside of the bag."
In the interest of good customer service and ending the madness, stores—especially high end stores—should be able to simple include the bag tax in their prices, right? Nope:
"Under no circumstances, the law says, are stores allowed to pick up the five-cent fee for their customers."
*updated with more brown bag detail.