One Interactive Map "Created or Saved" by Stimulus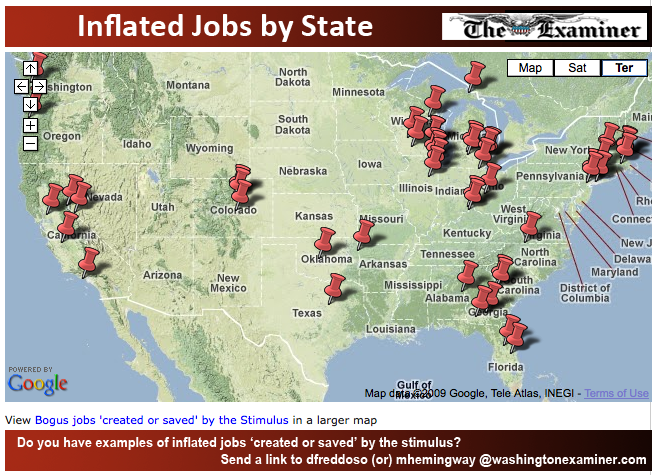 Observe! A map of all the news reports of miscounted, inflated, or otherwise non-jobs "created or saved" by the stimulus. Unlike the government jobs numbers, the full story behind each of the tacks in the map is available in a user-friendly spreadsheet with links put together by the Washington Examiner's Mark Hemingway and David Freddoso::
The map, which will be updated as new revelations appear, currently reflects an exaggeration by the Obama administration of about 75,000 jobs, out of the 640,000 jobs supposedly "created or saved."

The map reflects reports from The Wall Street Journal, The Boston Globe, the Sacramento Bee, The New York Times, USA Today, the Las Vegas Sun, the Detroit Free Press, the New York Post, the Milwaukee Journal-Sentinel, the Associated Press, the Chicago Tribune, and the Atlanta Journal-Constitution. It remains a work in progress because relatively few newspapers have scrutinized stimulus spending so far.
Economists on the stimulus here. Generate your own B.S. stimulus jobs here.