Le Fric, C'Est Moi: Does Islamic Banking Threaten French National Identity?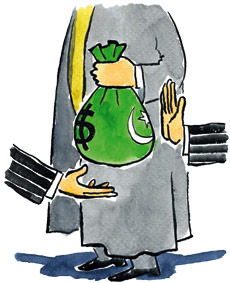 French President Nicolas Sarkozy runs into trouble in the race for petrodollars, as members of his own party derail a plan to liberalize banking rules to make room for sharia-compliant (no-interest) banking. From The Economist:
In a global recession, Islamic finance looks an attractive business. Worldwide sharia-compliant assets grew by 29% over the past year to $822 billion, according to The Banker. French officials fret that Paris is missing out on its share, particularly to London, whose multicultural approach gives an open-arms welcome to Islamic investors. To catch up, the French have pushed through changes to their tax and legal codes. But their latest effort has prompted a political backlash.

The fuss began when an amendment was tacked on to a draft bill on the financing of small firms to give legal rights to holders of sukuks, or Islamic bonds, "to conform with the ethical principles of Muslim law or sharia." Socialists were aghast. It was nothing less than "the introduction of sharia into French law!" exclaimed Henri Emmanuelli, a Socialist deputy. By slipping the amendment into an unrelated text, said another, "it could give the impression that we want petrodollars, but we don't want to advertise it." Traditionalist members of Nicolas Sarkozy's centre-right party were also upset. The constitutional council, France's highest court, seems to agree. Last month it threw out the amendment, albeit on technical grounds.
Unfortunately, where France is concerned, you can't assume the default position is in favor of individual rights. So it's not clear why allowing non-interest-bearing banking requires an amendment. The more you intrude public power into private decisions (including the elementary decision of what a person can do with his or her money), the more you turn every issue into a zero-sum game of what-will-they-think-of-us-if-we-back-down?
Good thing we live in a country where the government would never nationalize the banking sys… er, um… So, yeah…
The Financial Times sounds a note of caution on the newly acquired western taste for finances based on hard assets:
But perhaps we need to reflect back on one the key drivers of Islamic finance, the oil boom. The last five years of rising oil prices have allowed the Gulf States to enjoy robust growth. However, the global downturn could threaten oil prices and reduce the year-on-year growth that these countries have enjoyed. Already, the global downturn has led to a collapse in property prices in Dubai, where many Gulf Islamic banks invested heavily, and are now suffering as a consequence.

A survey also showed that the industry faces a number of challenges. A shortage of expertise in the industry and a lack of regulatory harmonisation were seen as the biggest obstacles to growth, both being cited by more than 40 per cent of respondents.

Nearly one-third also referred to a lack of demand among Muslims. This could be attributed to education or concerns that Islamic finance is not seen as being competitively priced.
A few years ago, Reason interviewed Imad A. Ahmad of the Minaret of Freedom Institute. Among many other interesting points, Ahmad contrasted American secularism (yay!) with French secularism (boo!); speculated that lending at interest was a major cause of Christendom's phenomenal rise from the Renaissance onward (and that lack of it contributed to the Ummah's relative stagnation); and even asserted that there is no Islamic prohibition on interest:
Basically, this so-called quranic prohibition is a little more complex than it seems, in that the Quran does definitely prohibit riba, which is usury. The question is: Is all interest usurious? Although 99 percent of all Islamic scholars have said it is, I simply believe they're wrong. And I make that argument using not only economics but the example of the Prophet and his companions. Even the majority of Islamic scholars, contrary to the claim that all interest is usurious, will allow certain forms of interest. For example, they'll allow a vendor to offer a discount for cash or surcharge for credit. This is interest; there's no way of getting around it. That tells you that interest is not inherently forbidden.