You might as well talk, monkey. We've captured that man in the yellow hat, and he's already confessed to everything.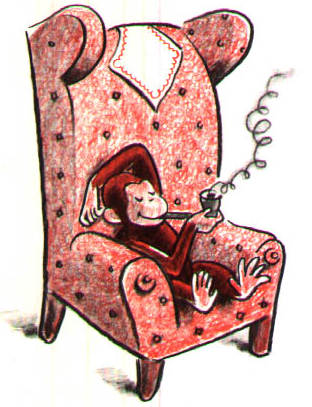 Remember when Elliot Madison was arrested earlier this month for sending tweets about where the cops were at the G20 summit? Here's a detail from the raid on his house that I missed at the time:
Three of us stayed to watch the hazmat team come in to investigate a child's chemistry set, to see them search the garage on an additional warrant, to sign vouchers for all the things they confiscated as "evidence"—Curious George plush toys, artwork, correspondence with political prisoner Daniel McGowan, birth certificates, passports, the entire video archive of a local media collective, tax records, books, computers, storage devices, cell phones, Buffy the Vampire Slayer DVDs, flags, banners, posters, photographs and more than can be recounted here.
Madison is a member of an anarchist group called the Curious George Brigade. I'm gonna guess that the cops knew this, and that they detained the dolls to question them separately.