I See a Red Door and I Want it Painted Cerny
The New York Times this weekend ran a fun little profile of Czech art-prankster David ?erný, the guy who did that great fake group-EU sculpture that got the Czechs in so much hot water when they held the EU presidency for six months. Excerpt:
He has painted a Soviet tank pink, depicted Prague's heroic 10th-century King Wenceslas riding a dead, upside down horse and lampooned the incendiary, right-wing Czech president, Vaclav Klaus, by displaying a caricature of him inside a giant fiberglass anus.

"David Cerny is one of the region's leading cultural and political satirists and one of a handful of Eastern European artists who have achieved global stature," says Jan Vitvar, culture editor of Respekt, the Czech political weekly. "Some Czechs would prefer him to be grayer, more contemplative and behave less like a rock star, but no one can ignore him." […]

But some critics, like Milan Knizak, the director of Prague's National Gallery, counter that "Entropa" is little more than a cynical provocation by an artistic shock jock who has made a career out of thumbing his nose at the establishment.

"There is nothing special about David Cerny's art, other than that he is more visible than other artists and talented at marketing," Mr. Knizak said. "But artists like Cerny who are in headlines today will be forgotten tomorrow. His work is destined for the amusement park and won't stand the test of time."

Mr. Knizak, whom Mr. Cerny once depicted inside the same towering sculpture of a rectum where he placed his other nemesis, Mr. Klaus, may not be the most objective critic. […]

"The Czechs can't get out of their 'be careful' mentality," [Cerny] said. "It is in our brains and in our bodies because of decades of watching out, of worrying that your neighbors are spying on you."
?erný, who I know a little bit, is one of the world's great anti-communist artists. Here, for example, is his tribute to the still-existing Czech Communist Party: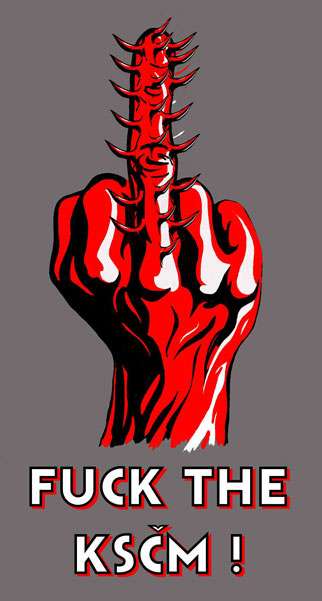 You can see much more at his website, and also Wikipedia.
---