The Gnome in the Garden of Good and Evil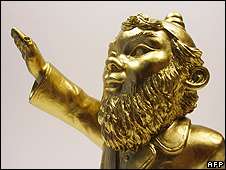 Prosecutors in Nuremberg are trying to decide whether a golden garden gnome making a stiff right-armed salute runs afoul of Germany's ban on Nazi symbols and gestures. Evidently it all hinges on intent: Did the artist who created the gnome, Ottmar Hoerl, mean to honor the Nazis or mock them? Hoerl thinks the meaning is obvious "when one portrays the master race as a garden gnome," adding, "In 1942 I would have been murdered by the Nazis for this work." The authorities are not so sure:
A spokesman for the Nuremberg public prosecutor's office, Wolfgang Traeg, said "we're checking to see if garden gnomes fall into the same clear category as posters that show the swastika crossed out".

He said the aim was to establish whether the artist and the gallery owner had intended the gnome as an endorsement of the Third Reich or as a rejection of Nazi ideology.

Mr Traeg referred to a previous case: a swastika which had been graffitied onto a wall. No prosecution was brought because the picture featured a fist smashing the Nazi symbol.
To play it safe, Hoerl should start kicking over all the Nazi gnomes.
[Thanks to Eric Jon Magnuson for the tip.]