Temporary Safety And Liberty (For Only $6 a Month!)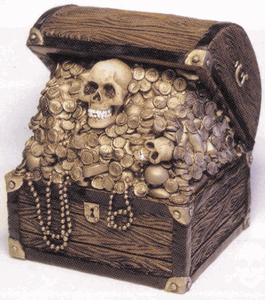 Last week saw a significant drop in Swedish Internet traffic as a result of a new anti-piracy law, the Intellectual Property Rights Enforcement Directive.
The Local IPRED "allows copyright holders to obtain a court order forcing ISPs to provide the IP addresses identifying which computers have been sharing copyrighted material."
Christian Engstrom, v.c. of the Pirate Party, said the drop would probably be temporary. Now, it seems there's a rush of sorts. Wired is reporting on the overwhelming response Pirate Bay–the popular BitTorrent file-sharing site based out of Sweden–has received for its ingenious plan to offer both safety and anonymity: 
Over 100,000 people have already signed up for The Pirate Bay's new anonymity service, Ipredator, designed to hide IP addresses from the authorities… 

Some 113,000 persons have signed up and are in queue for the Ipredator service, and about 80 percent are Swede…The service was originally set to go live on April 1, but the unexpected high demand delayed it.

The service will operate much the same way as other anonymity services, with one important exception: The Pirate Bay says it will not log its data, making it more difficult to trace activity to a specific user.

Ipredator is a Virtual Private Network (VPN) which allows users to anonymously connect to the Internet. Their ISP-designated IP addresses remain hidden, revealing only a second IP address provided by the VPN.
The Ipredator service costs about 5€ (about $6.50) a month and began operating yesterday. In a post last week, I made the obvious point that legislative landlubbers wouldn't be able to avast Internet buccaneers from skirting the law. Apart from the digital rebellion, it's fascinating to see what groups like Pirate Bay come up with when responding to needs of the (viral) market. 
In the June issue of Reason, Associate Editor Katherine Mangu-Ward has a review of Peter Leeson's The Invisible Hook: The Hidden Economics of Pirates. It's a good read that could explain the economic incentives that drive these tech pirates. Look for Reason.tv's interview with Leeson in the near future. More on piracy near, dear and here.