A Likker Legend's Last F.U.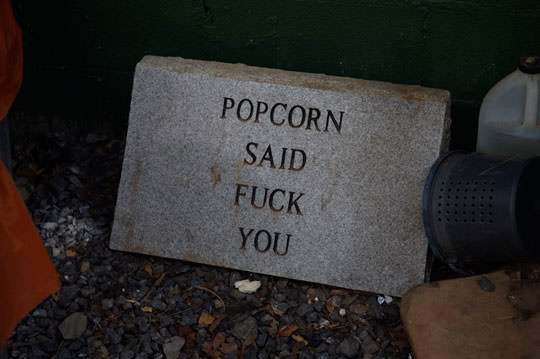 Marvin "Popcorn" Sutton was told to report to federal prison tomorrow for an 18-month stint after he was busted yet again for making his famed White Lightning. On Monday, Sutton went out on his own terms.
Sutton was one of the last of his kind: an unrepentant Appalachian moonshiner with a reputation for great "likker" and a penchant for pissing off the authorities (that's the tombstone he got for himself on the right).
Sentenced in January, the 62-year-old said he was too sick to be thrown in the slammer and wished to end his days at home. An expert in his field, Sutton attracted documentarians ranging from the Discovery Channel to Jackass star Johnny Knoxville.
The sentencing judge had a different opinion of Sutton:
A probationary sentence would do absolutely nothing to deter you from further crimes. To do so would send a message that this court will tolerate repeated violations of the law. To do so would promote disrespect for the law.

Your moonshining is a violation of the law…

[N]ot only are you not remorseful for your criminal conduct, you seem to be proud of it. 
Learn how to make moonshine from the master himself. Check out Knoxville's documentary, and learn about other vices, here. Neal Hutcheson "cult classic" The Last One here. Reason columnist Greg Beato explains the renaissance of DIY brewers after the government relaxed its alcohol laws. Managing Editor Jesse Walker writes about the hippie and the redneck's shared love. All things prohibition here.
Hat tip: Chris @ The Knight Shift, who's been covering Popcorn's story for sometime now.
A Popcorn Tribute: