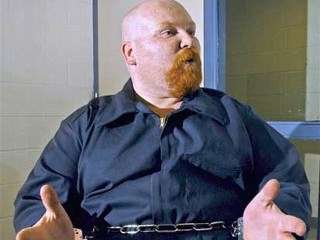 When we last checked in on gargantuan Death Row inmate Richard Cooey, the  5-foot, 7-inch, 267-pound criminal was trying to stay his execution in Ohio on the grounds that he was too fat to fry (well, lethally inject).
Bad news for Cooey, who was sentenced to death for his role in a 1986 double kidnapping, beating, sexual assault and murder: The courts turned down his arguments that he is too obese to be put down by the state in a humane fashion and he will be executed today.
Cooey's lawyers pointed to what they called a history of botched executions by the state:
The last Ohio inmate to be executed was Christopher Newton—who was similar in size to Cooey—in May 2007. The execution team had trouble putting IVs in his arm, delaying his execution nearly two hours. There were similar problems in the execution of another inmate in 2006.
I'm against the death penalty because I think the state should use the least amount of force necessary to protect its citizens. But Cooey's case, in which there is no doubt of his guilt and a huge heaping serving of chutzpah, is the sort of plea that makes it difficult to argue against executions.
Cooey's last dinner?:
Cooey dined Monday evening on the special meal he ordered, including T-bone steak with A-1 sauce, onion rings, french fries, four eggs over easy, toast with butter, hash browns, a pint of rocky road ice cream, a Mountain Dew soft drink and bear claw pastries.