The Minstrel Man from Malibu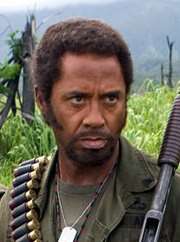 Reuters reports the perhaps unsurprising news that actor Robert Downey, Jr. is not yet in trouble for appearing in blackface in the new comedy Tropic Thunder, which opens in theatres this week. His character, a white actor named Kirk Lazarus, corks up for a war movie that suddenly turns all too real. High jinks ensue. From the story:
Downey told reporters in recent interviews that his role was a satirical send-up of actor narcissism, and different from older uses of blackface that reinforced harmful stereotypes.

"It's entertainment that's set up by people who are high-minded enough to not be racist or offensive," he said.

"The whole film is based on the idea that what we (actors) do at some level is offensive and who we are, at some level, is despicable and pathetic, which is the truth and not the truth. But the part of it that is the truth, is entertaining."
I'm not sure I followed that last bit, but with Spike Lee apparently more outraged by Clint Eastwood's failure to include any African American soldiers at the Battle of Iwo Jima, Iron Man looks like he's in the clear.
Full story here. Back in 2002, I took a look at country music's tangled roots in blackface minstrelsy. Read about that here.