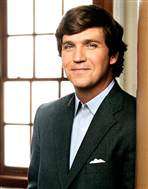 Contrary to yesterday's rumors, MSNBC's Tucker Carlson will not run for the Libertarian Party presidential nod. Not only that, he was never thinking about it. And if elected, he wouldn't serve (well, that's an extrapolation). Reports ABC's Jake Tapper:
Carlson tells me he was never running.

He's right now with his family in Maine rather than in Denver with the Marijuana Policy Project and the like.

"I probably should have done it," Tucker emails me." Imagine the bus trip."

Shoot.

Oh, well.
Carlson wrote the second-best on-the-trail-with-Ron-Paul story of the GOP primary season. Read it here. And then read the best one, by reason's Brian Doherty, here.
All about Shermanesque political statements here.