Attn, DC Reasonoids: If You Care About Free Speech, Come to This Press Conference on Monday, April 21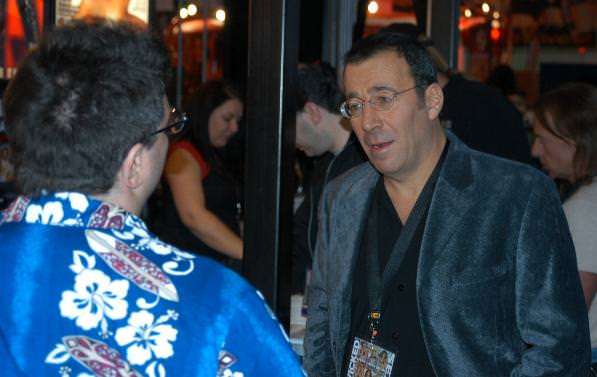 If you're in the Washington, D.C. area and care about free expression, you'll want to witness this press conference:
Washington, D.C. (April 18, 2008)—The Bush administration's latest effort to trample the Constitution, limit freedom and control the minds of Americans comes in the form of an obscenity prosecution of legendary adult filmmaker John Stagliano. On Monday, Stagliano, an award-winning director and producer who owns Evil Angel, will be arraigned in federal court in Washington, D.C. on eight charges of distributing obscene material via interstate commerce and the Internet. Stagliano will make a statement and take questions on the steps of the E. Barrett Pettyman Courthouse, at 333 Constitution Avenue, at approximately 11:30 a.m.

"Evil Angel's films are completely legal. These movies are made by consenting adults, for consenting adults. We believe wholeheartedly in liberty, freedom of speech and the First Amendment and we look forward to defeating these baseless charges," said Karen Stagliano, John's wife and Evil Angel's publicist. "We will fight these charges every step of the way", added John Stagliano. "With the war in Iraq going so well, Osama bin Laden captured, the economy thriving, our public school system fixed, and our crumbling infrastructure completely repaired, the Bush administration's top priority seems to be harassing filmmakers and watching our movies."

Earlier this year, Evil Angel won 18 Adult Video News awards, the porn industry's Academy Awards. Stagliano won "Best Director" for the 4th time. Stagliano has won more Adult Video News Awards during his illustrious career than any other adult industry director.

For background information on this obscenity case, please visit the website http://www.defendourporn.com/.

Who:
John Stagliano
Owner, Evil Angel
Awarding-winning Director and Producer, Called a "pioneer" and the "father of gonzo"

What: Statement and Media Q&A About Federal Obscenity Charges

When: Monday, April 21, 2008 at 11:30 a.m. Eastern

Where: The steps of the E. Barrett Pettyman Courthouse at 333 Constitution Avenue

Contact:
Karen Stagliano
Publicist, Evil Angel
karen@evilangel.com
Full disclosure: John Stagliano is a supporter of Reason Foundation, the nonprofit that publishes the print and online editions of reason and reason.tv.
More on the Stagliano prosecution here.
reason on porn here.