Rallying Around Ryan Frederick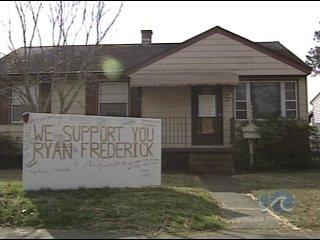 The Fox affiliate in Hampton Roads reports:
With their signatures, residents are voicing their belief the accused killer, Ryan Frederick, was in the right when he fired that gun as police officers were trying to come through his front door to serve a drug search warrant.

"It left me where I couldn't sleep," said Frederick's neighbor, Sandra Brooks.

Brooks says she will never forget the terror she heard that night in the voices of the officers.

"The panic in their voices, I have a hard time talking about it, I start to tear up, but the panic in their voices as they screamed 'we need CPR, where are the medics?'"

Brooks says her heart goes out to Detective Shivers' family and fellow officers, but she also agrees with the people signing the poster in support of Frederick.

"I believe he was sincere that he did not know what was going on when the officers were coming into the house," said Brooks.
The article also quotes an attorney who says Frederick may be guilty if he was indiscriminately firing through the door. I'll have to do a bit of research into the specifics of Virginia's self-defense law. We also still don't know if Shivers was shot through the door, or after he had made his way through the doorway to Frederick's home. But if someone's attempting to break down your door, I would think you could reasonably assume they present an immediate threat to your safety. Frederick's case probably gets a lot stronger if the police knew he'd been burglarized a few days prior. That would certainly go to his state of mind, and probably should have factored into the way they decided to apprehend him.
In any case, it's good to see at least part of the community is rallying behind him. I've seen more and more acquaintances, co-workers, and friends sticking up for him on various message boards, too. It would be an absolute travesty if this guy were to get life, or worse.
There's also now a MySpace page in support of Frederick. I received an email this morning saying there may soon be a legal defense fund, too.
Prior posts on this case here.