Romney and the Role of Religion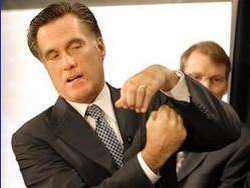 Columnist Ron Hart on Romney's recent rap about religion:
A Pew Research Center poll in September found that 25 percent of GOP voters, including 36 percent of white Protestants evangelicals, said that they would be less likely to vote for a Mormon. Rudy Giuliani with his three wives does better than Mitt Romney with his stable solid marriage of 30 years and his great kids. Folks, that is small-minded and wrong.

The Democrats are smarter on this. Their leading candidate Barrack Obama has admitted to drug use and no one cared. Meanwhile, the GOP base slices and dices its candidates; forcing them into in a ludicrous competition over issues of religion and morality that should have no bearing on their ability to govern.