Cops to Flashy Things: Stay Out of Boston!
Henry Jenkins offers a balanced assessment of last month's Star Simpson incident, in which police arrested an MIT student at Boston's Logan Airport for wearing an alleged "hoax bomb." (It was a name badge with an LED display.) An excerpt:
One of the things that struck me in the news coverage of the incident was the frequency with which reporters described the security force as "taking no chances" in their response to Star….In this case, the police "took no chances" if you assume that Star was either wearing a bomb or trying to trick someone into believing she was armed.

But if we consider that police pulled machine guns on an unarmed 19 year old in a public place, then we might think that they took a fair number of chances.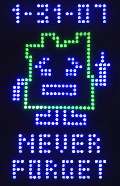 "I don't know for sure what happened that day at Logan Airport," Jenkins concludes. "There are some nagging details that don't quite add up no matter how I look at the story. But it is pretty clear that there was a significant misunderstanding involved here, that the news media didn't consider alternative framings of the incident and that they were more invested in frightening the public than in finding out what actually occurred."
More on the story here and here. Boston's battle with lite brites recounted here.