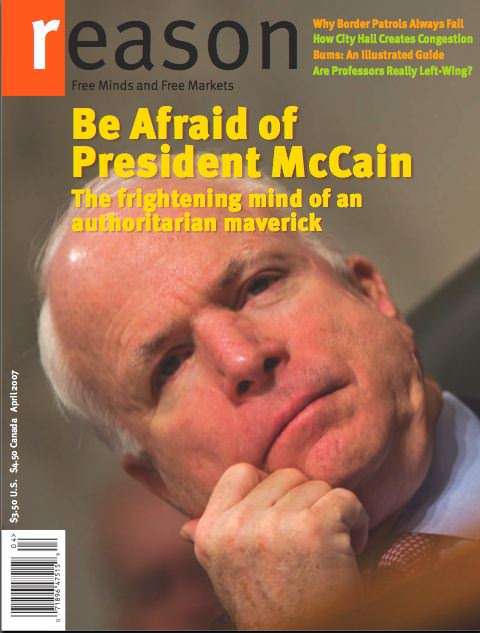 John McCain's campaign has made it known that they want their candidate to own the Iraq War, betting that Republican voters still support it (true) and that the surge will show obvious progress (somewhat true), turning public opinion around (not yet). Marc Ambinder has a McCain memo that proves it:
The first phase of our September strategy is to take ownership of the surge and demonstrate again that John McCain is the only candidate running for President who is prepared to be Commander-in-Chief from day one.
Stephen Hayes, owner of the eldery-war-lovin'-gentleman beat, skips along the campaign trail with McCain and sees this in action.
Since President Bush announced the surge, that criticism has mainly come from Democrats. In January, Senator John Edwards dismissed the surge as "The McCain Doctrine." Says McCain: "I think that I'm beginning to be flattered by Senator Edwards's characterization of the strategy."

McCain no longer regards his position on Iraq as a liability, "because the facts on the ground are better." And as long as that trend continues, he plans to press his advantage on Iraq by calling out Republicans he regards as soft on the surge.
Hayes thinks the surge has taken McCain off the ropes. I look at this the way Christopher Orr looked at the Democratic field, which believes—utterly mistakenly—that Hillary Clinton is the most anti-war Democrat.
The Democratic electorate, which favors withdrawal, probably isn't choosing which candidate it likes on the basis of policy positions; it's ascribing its favored policy positions to the candidates it already likes on the basis of name recognition and other unrelated attributes. That is to say, rather than the candidates' popularity being a function of their positions, their perceived positions are, at this point at least, a function of their popularity.
The same thing will happen in the GOP. Outside of some pockets in New Hampshire and military areas those voters don't like McCain anymore—he's been tenderized by CFR, immigration, years of talk radio pummelling. If those voters want to support the surge it doesn't follow that they'll flow back to McCain, as long as Fred Thompson and Mike Huckabee et al don't come out against the surge. They like these guys better than McCain; they'll readily assign these candidates their own positions. McCain has risen over the last week in national polls, but only about as much as Fred Thompson.
The other question: Does this make McCain a more attractive general election candidate? If you're a Republican donor or voter, do you want to head into November with some wiggle room in case the surge peters out in March and we still have an overtaxed military presence heading into election day? Or do you want to go all in with John?
And if you're undecided should you still buy Matt Welch's McCain book? Absolutely.