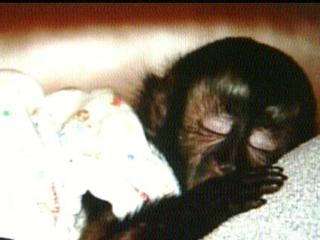 It's not an amazing suit sale; it's the slogan of a burgeoning movement to reunite Elyse Gazewitz, a 42-year-old Rockville, Maryland, woman, with her beloved capuchin monkey, confiscated by Montgomery County officials on public health grounds. While living with Gazewitz, Armani wore baby clothes over Huggies diapers (with holes cut in them for his tail) and watched TV with his owner. Now living at the Catoctin Wildlife Preserve and Zoo in Frederick County, he goes au naturel and watches DVDs with other monkeys, presumably while being ogled by visitors (accommodations for which Gazewitz is billed $1,344 a month). If I were a capuchin monkey, I am frankly not sure which living situation I would prefer. But it seems to me it should be possible to address concerns about monkey-transmitted disease without banning them as pets.
Gazewitz's supporters plead Armani's case here. Here is background on the guy who wrote a protest song for the cause, sung to the tune of "Sloop John B" and ending with the unforgettable line, "I'm lonely Armani, I want to go home." 
Addendum: Frederick News-Post columnist Jo Ellen Gluscevich has this to say about Armani:
Obviously, I support laws that are in the best interest of society; and in most instances they make sense. However, I also feel that there are and should be exceptions to certain laws. A recent "exception" to the law with which I did not agree was the manner in which hotel heiress Paris Hilton was allowed to serve her prison time—an insult to society!

As for Armani, I say make an exception and show some compassion. Hopefully, the appeal will be in Armani's favor and he will be returned home soon.

Have a heart, and get over this monkey business!
It sounds like Gluscevich would like to arrange a Paris-for-Armani prisoner swap. The appeal to which she refers challenges a decision by the Montgomery County Animal Matters Hearing Board rejecting Gazewitz's request for the return of her monkey. Apparently the decision hinged on whether Gazewitz is truthfully reporting the Armani's age, which matters because monkeys owned before May 31, 2006, are exempt from the ban. Gluscevich reports that Armani is in "protective custody," away from the public's prying eyes.
Coincidentally, yesterday I visited Monkey Park, a mini-zoo between Jerusalem and Tel Aviv that includes a sizable contingent of capuchins. These monkeys are so smart, our guide informed us, that an attempt was made to train them as assistants for disabled people. The program failed, he said, when it became apparent that the monkeys, which have a strong sense of hierarchy, would only obey people with "strong personalities."