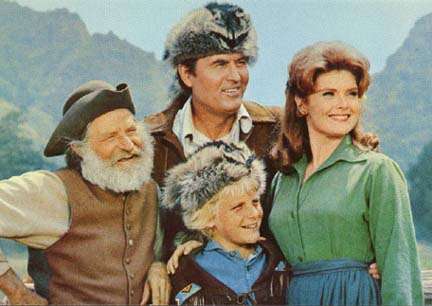 Good find by the liberal blogger TBogg. Fred Thompson's pre-campaign website compares him to some of the truly great Americans:
In the tradition of Daniel Boone of Tennessee and President George Washington, citizen-legislators and leaders Thompson had admired growing up, he walked away from an easy reelection victory to seek new challenges.
There was no "Daniel Boone of Tennessee." There was a Daniel Boone of Kentucky, who was born in Pennsylvania and settled the Bluegrass state, as visitors to the Daniel Boone National Forest or readers of Teddy Roosevelt's essay "Daniel Boone's Move to Kentucky" can attest.
It's likely that someone named Daniel Boone has lived in Tennessee at some point in time, but less likely Thompson sees himself as a pioneer in that tradition. Both Daniel Boone and Tennessean Davy Crockett were played in beloved Disney films by Fess Parker, which would explain the mistake if Thompson was some kind of phony whose knowledge of the hard life came outta the movies instead of his own axe-chopping, Oregon-trailing, bear-wrestling experiences. If he was.
Tbogg's take on this is much funnier:
Former Senator Fred Thompson has an official website called: I'm With Fred, the express purpose of which is to lay the groundwork for his run for the Presidency once he gets done with sitting on the front porch and whittling and finally moseys on into town to file papers with the county recorder or some other act suitably bucolic enough to make Chris Matthews swoon.