The Return of the Thin White Anti-Capitalist
In this week's (London) Spectator cover story, Ross Clark presages the return of the anti-globalization movement, which, as he notes, was quickly marginalized after the events of 9/11; the martyrdom of Carlo Giuliani, the anti-G8 protester killed by a Genoa Carabinari, was fast eclipsed by the "heroics" of Rudy Giuliani. But Clark argues that the capitalism-hating, balaclava-clad activists "are back on the march" and well-organized:
Anyone who imagines what happened [at the G-8 summit in] Rostock was caused by a small rabble disrupting a larger peaceful protest and being picked upon by over-reacting police, should have a look at the Dissent Network's website. For a self-professed anarchist group, it is remarkably well-organised. Long before the G8 summit it had set up two camps, one in Rostock and one outside, for a total of 11,000 protestors, complete with soup kitchens and medical tents. Prospective protestors were told that the object was to close all entry points to the G8 summit and were given detailed advice as to the most effective way of doing it: you might consider, for example, linking arms with the aid of metal pipes set into concrete blocks which you prepared earlier, and then lying down in the street. 'There is little you can do against armoured police vehicles,' it goes on to advise, 'but they do for example hate paint on their windscreens.'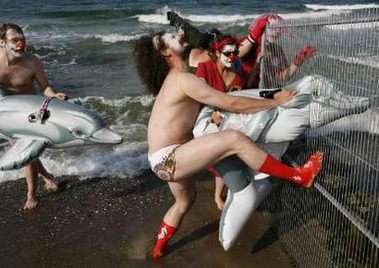 The protesters, dressed as clowns and wielding blow-up dolphins, today "declared victory" against…well, who knows. The "movement" might be back on its feet, but it's still suffering a coherence deficit. In 1999, Wall Street Journal reporter Helene Cooper hit the streets of Seattle in an attempt to find the unifying theme amongst the anti-globalists; she found a burning desire for social change, though most were unsure of it's relationship to the WTO:
One day into the Woodstock of anti-globalization, Debbie Carlson, a bandanna-wearing member of a lesbian-activist group, can't get beyond a few sound bites to explain why she is out in the streets with thousands of other free-trade foes who are opposed to the World Trade Organization. "It's a general question of oppression," she says. But when asked, Ms. Carlson couldn't be more specific. Instead, she says: "The WTO doesn't care about women's rights.
In 2000, former Reason editor Virginia Postrel surveyed the anti-globalization movement, post-Seattle.