They Never Accidentally Shoot People, Either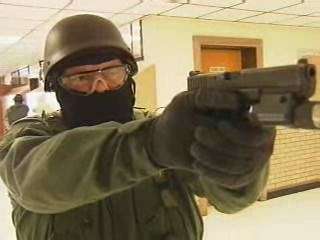 One particularly disturbing trend I've found in covering the rise of SWAT-style paramilitary raids is that criminals are catching on to the trend.  I get several stories a week about crooks dressing up as raiding cops to make their way into a target's home. 
Which puts homeowners in a heck of a predicament.  Even if police do knock and announce themselves, should you let them in?
The latest example comes from Penn Hills, Pennsylvania:
Rodger Macek thought something was wrong with the wood-burning stove in the basement of his Penn Hills home when he heard a loud bang about 5:30 a.m. Monday.

Yet when the Beechford Road man came downstairs to investigate, he was met by four armed men dressed in dark clothing. Two of the men wore jackets with the word "police" in large letters across the front.

[…]

One of the intruders ordered him to the kitchen floor, put a gun to Macek's head and demanded to know where the money and drugs were hidden.
Not terribly different from the way most SWAT raids are handled.  I bring up this case, though, because the victim gave a quote I found pretty amusing:
"I knew it wasn't the cops because they don't bust through your door wearing ski masks," said Macek, 47.
Oh my.  You wanna' tell him, or should I?
---