The Volokh Conspiracy
Mostly law professors | Sometimes contrarian | Often libertarian | Always independent
Same for "Islam is right about women" flyer -- both are labeled "hate-filled flyers" by the University, and apparently the police and the FBI are investigating the distribution of the flyers.
Hartford Courant (Zach Murdock) reported on this Friday:
Police and federal agents are investigating "hate-filled flyers and inscriptions" left around Western Connecticut State University's campus Thursday night in Danbury.

It was not clear whether a student or "outside agitators" were responsible, but university President John Clark strongly condemned the materials and vowed to enforce the "severest disciplinary actions" regardless of whether students or someone off-campus made the flyers….

University officials immediately reported the flyers to Danbury and state police and referred the messages to the FBI office in New Haven, all of whom were investigating who made the flyers on Friday, [a university spokesman] said.

"I want to state directly and without equivocation that if any member of our university community is found to be party to these revolting actions they will be subject to the severest disciplinary actions, including dismissal as well as possible civil and criminal actions," Clark said.
But the flyers consisted solely of the messages "It's OK to be white" and "Islam is right about women." (I confirmed this with a spokesman for WCSU.) Such messages are of course fully protected by the First Amendment.
It's not clear whether the "Islam is right about women" message is meant (or will likely be understood) literally, as support for certain kinds of discrimination against women; facetiously, as a dig against Islam; or as a means of pointing out a perceived inconsistency among some people who both condemn sexism and supposed "Islamophobia." But any of those messages is constitutionally protected.
The university spokesman also mentioned to me that an "alt-right flag" (seemingly the so-called Kekistan flag) was "posted on a classroom building window along with some of the flyers."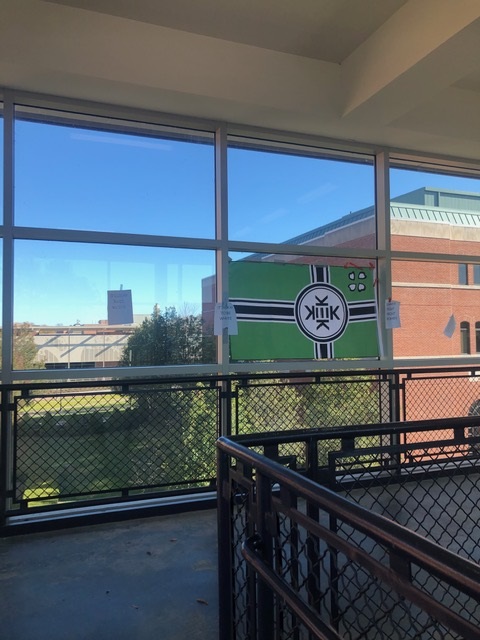 (This was not mentioned in the Hartford Courant story.) Offensive flags, of course, are constitutionally protected just as are offensive words. Indeed, the very first case in which the Supreme Court struck down government action on freedom of expression grounds, Stromberg v. California (1931), involved a flag (there, a Communist flag).
I should note that, if the school has content-neutral rules forbidding posting any material in classroom building windows, leaving flyers on university property, or posting them in places other than designated bulletin boards, those neutral rules could be enforced in this situation, if they are evenhandedly enforced against others who violate the rules, regardless of viewpoint.
But I very much doubt that violating any such rules normally leads to expulsion, criminal prosecution, or even police investigation. And it seems quite clear from the University's statement that the objection isn't to littering or posting that violates such rules, but precisely to the message that the material expresses.
UPDATE:  From commenter ReaderY:
The irony here is that the if the alt right paid this university president to advertise for them, he couldn't have come up with a better advertisement campaign.

By overreacting to the message, he affirmatively corroborates the idea not just that white people are under attack and their rights are trampled on, but that the establishment actively hates them. By characterizing the simple and objectively inoffensive idea that "white people are OK" as hate speech, he is not just legitimating but actively advocating for the necessity of, the alt-right's core message.

I have to confess that it's ingenious manipulation of his reflexes. You would think a university president would have the capacity to think before acting, and to realize that he is dealing with a matador before seeing red and blindly charging the cape.