The Volokh Conspiracy
Mostly law professors | Sometimes contrarian | Often libertarian | Always independent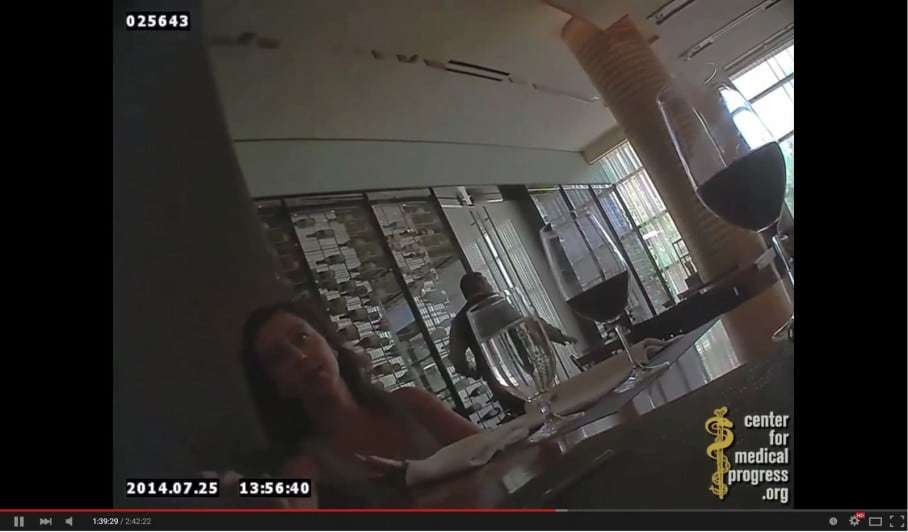 Last week, I blogged about StemExpress v. Center for Medical Progress. In that case, a California trial court had originally temporarily blocked the Center from releasing surreptitiously recorded video of a conversation with "leaders of a California company that provides fetal tissue to researchers," but later suggested that a more permanent injunction shouldn't be issued. On Friday, the judge indeed rejected the proposed injunction, and dissolved the temporary injunction.
1. The judge concluded that the Center for Medical Progress had likely acted illegally in secretly recording a conversation with StemExpress representatives. The recording took place in a restaurant, and there was a dispute about whether the StemExpress people reasonably expected their conversation not to be overheard (which would be legally required, under California law, for making surreptitious recording of the conversation illegal). The judge decided to largely credit the StemExpress account of the dispute (some paragraph breaks added):
Plaintiff [Catherine] Dyer testifies that Defendant [David] Daleiden, using the false identify of "Robert Sarkis," invited Defendants to a business meeting. Plaintiff Dyer states that she selected the meeting place and chose Bistro 33 because its seating arrangement increases its privacy. She also states that she scheduled the meeting for 4:30 p.m. because the restaurant is less crowded at that time.

Dyer testifies that on May 22 the parties were seated in a comparatively isolated booth in the restaurant, and the restaurant was not crowded: "We were seated in a remote area of the restaurant situated on a segregated floor that had no other diners … [and] the main dining area was virtually empty [except] for us." Dyer testifies that "Tennenbaum" positioned herself "awkwardly" during the conversation and that Daleiden "appeared nervous [and[ was visibly Perspiring[."] Dyer also testifies that Defendants' line of questioning was unusual, in that their questions emphasized Plaintiffs' fetal tissue procurement business to the exclusion of more frequently used procurement types.

Dyer also testifies that she attempted to keep the conversation confidential, stopping the conversation when restaurant staff approached and specifically instructing Tennenbaurn to keep her voice down during the conversation so that they would not be overheard. Dyer testifies that she informed Defendants that Plaintiffs would prepare a comprehensive confidentiality agreement that would cover the conversation. Dyer testifies that she later identified "Sarkis" as Defendant Daleiden when she heard Daleiden's voice in a covert video of his conversation with Ds. Deborah Nucatola of Planned Parenthood that Defendant Center for Medical Progress released on or about July 14, 2015.

Plaintiff also submits the declarations of Megan Barr and Kevin Cooksy, both of whom were also present at the May 22, 2015 meeting. The Barr and Cooksy Declarations echo Dyer's statements with respect to the seclusion of the conversation, the unusual positioning of Daleiden and Tennenbaum, the content of the conversation, and the measures undertaken to keep the conversation private.

Opposing the application, Defendant Daleiden admits that he recorded the conversation Daleiden, however, disputes that the conversation was confidential, essentially contradicting the statements of Barr, Cooksy and Dyer….

The term "confidential communication" [under the California statute barring surreptitious recording of such communication without all parties' consent] includes any communication carried on in circumstances as may reasonably indicate that any party to the communication desires it to be confined to the parties thereto, but excludes a communication made in any other circumstance in which the parties to the communication may reasonably expect that the communication may be overheard or recorded.

The test of whether a conversation is "confidential" is an objective one. Plaintiffs' testimony that the parties were "seated in a remote area of the restaurant situated on a segregated floor that had no other diners" and that "[t]he main dining area was virtually empty [except] for [them]" is fundamentally undisputed. The sole point of contention between Dyer's and Daleiden's testimony is whether Dyer exhibited concern for the confidentiality of the conversation when the restaurant began to fill up, taking steps to modify the conversation' s volume and content, particularly when wait staff approached. Daleiden essentially denies that this happened. Based solely on the factual content of the declarations, the Court cannot determine which party is telling the truth.

Although Daleiden's testimony is self-serving, so is the testimony of Plaintiffs' witnesses. However, Daleiden's concealment of his identity during the May 22, 2015 conversation and his admission that he was surreptitiously recording the conversation render his testimony less worthy of credence than Dyer's. The Court finds that the conversation was confidential within the meaning of Penal Code Section 632(c).
2. The court also concluded that the exception for recording conversations for purposes of obtaining evidence of certain serious crimes didn't apply:
That exception provides as follows, in relevant part:

Nothing in Section 631, 632, 632.5, 632.6, or 632.7 prohibits one party to a confidential communication from recording the communication for the purpose of obtaining evidence reasonably believed to relate to the commission by another party to the communication of the crime of extortion, kidnapping, bribery, any felony involving violence against the person Penal Code § 633.

Defendants contend that they "reasonably believed" that they were recording evidence related to the commission of "felon[ies] involving violence against the person," to wit, fetal murder under Penal Code § 187(a) and partial-birth abortion under 18 U.S.C. § 1531. The argument is poorly taken. California's murder statute applies to fetal humans, but contains an exception for an act that "was solicited, aided, abetted, or consented to by the mother of the fetus." Penal Code § 187(a)(3). Defendants offer no evidence that any of Plaintiffs' tissue procurement technicians were acting without maternal consent.

Defendants also provide no evidence that they reasonably believed that partial-birth abortions were being conducted or that violation of the federal statute is a "felony involving violence." Defendants' apparent ideological conviction that fetal tissue procurement is a violent felony does not, without more, rise to the level of a "reasonable belief" within the meaning of Penal Code Section 633.5. Accordingly, Defendants have not established the existence of a defense to Plaintiffs' cause of action under Penal Code Section 632.
3. But though the court concluded that the Center likely violated the law, the court concluded that an injunction against distribution of the video shouldn't be issued. First, the statute doesn't expressly authorize such an injunction:
Although Penal Code Section 637.2 provides a civil litigant a private right of action and expressly authorizes injunctive relief "to enjoin and restrain any violation of this chapter," nothing in section 632 and its related statutes prevents the publication of information unlawfully procured through unlawful privacy violations. Lieberman v. KCOP Television, Inc. (2003) 110 Cal.App . 4th 156, 167 ("Penal Code section 632 does not prohibit the disclosure of information gathered in violation of its terms."). Plaintiffs' probability of prevailing on their Penal Code Section 632 cause of action, therefore, does not entitle them to the requested injunctive relief.
4. And beyond that, the court concluded, the First Amendment ban on "prior restraints" suggests that an injunction would be unconstitutional:
Plaintiffs' proposed injunction would prevent Defendants from publishing the recorded material from the May 22, 2015 meeting. This proposed injunction would be a prior restraint on Defendants' right to free speech under the First Amendment. Wilson v. Superior Court of Los Angeles County (Watson) (1975) 13 Cal. 3d 652, 658; see also San Diego Unified Port District v. U.S. Citizens Patrol (1998) 63 Cal.App.4th 964, 970 (California's free-speech protections are "more protective, definitive and inclusive of rights to expression of speech than their federal counterparts."). This significantly tilts the balance of harms in favor of Defendants. Elrod v. Burns (1976) 427 U.S. 347, 373 ("The loss of First Amendment freedoms, for even minimal periods of time, unquestionably constitutes irreparable injury. "). This is true even where the speech is false, defamatory, violative of privacy rights or otherwise tortious in character. Gilbert v. National Enquirer, Inc. (1996) 43 Cal.App.4th 1135, 1147-1148 ("The threatened invasion to [the] right of privacy and the threatened harm to reputation are not the sort of 'extraordinary circumstances' required to justify a prior restraint."); Evans v. Evans (2008) 162 Cal. App. 4th 1157, 1168. The harms Plaintiffs assert in their moving papers are generally the harms discussed in Gilbert and are thus insufficient to counterbalance the constitutional harms that the injunction would cause Defendants.

Plaintiffs also assert that there is a potential safety risk involved in releasing the information. In support of this assertion, Plaintiff Dyer declares that she fears for her safety if the video is published, and, specifically, that her personal security staff recently indicated that an unknown person had been conducting surveillance of her property from the street and her property boundary.

Dyer's concerns for her personal safety appear to be based in observable fact. However, as Defendants observe, those threats apparently exist independent of the publication of the videotape as it has not yet been published. Therefore, the potential jeopardy to Dyer and StemExpress employees does not outweigh Defendants' First Amendment rights.