The Volokh Conspiracy
Mostly law professors | Sometimes contrarian | Often libertarian | Always independent
See The Local (Denmark, English language) and Washington Post post tv [UPDATE: and this Washington Post article]. Here's an excerpt from BBC News:
Gunmen have killed one person and injured three police officers at a free speech debate in Copenhagen attended by a controversial Swedish cartoonist [Lars Vilks], officials say.

The French ambassador was also present at the seminar….

The debate, which took place in a cafe, was described on a personal website of Lars Vilks as a talk on whether any limits should be placed on artistic expression or freedom of speech.

A description of the event asked whether artists could "dare" to be blasphemous in the wake of the Charlie Hebdo terror attacks by Islamist gunmen in Paris last month.
Neither the cartoonist nor the ambassador appeared to be hurt. The BBC story also reports on many past attacks or attempted attacks on Vilks, who "stoked controversy in 2007 by drawing pictures of the Prophet Muhammad dressed as a dog." Here is what appears to be one of those cartoons (copied from the Wikipedia site); apparently the picture is of a head, intended to be Muhammad's, attached to a "roundabout dog," a form of Swedish street sculpture sometimes put up by anonymous people in traffic roundabouts: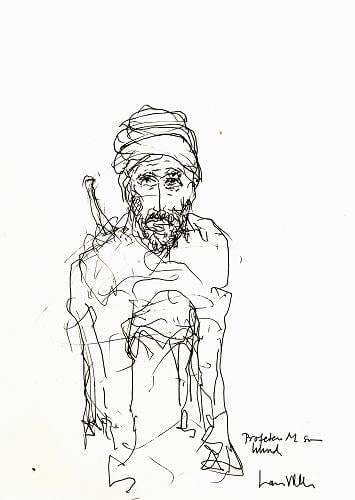 Here is a statement from Danish Prime Minister Helle Thorning-Schmidt:
Denmark was today hit by a cold-blooded act of terror. Everything points toward the shooting in Østerbro being a political assassination and thus an act of terror….

The shooting is an action that fills me with deep anger. We will do everything to find the guilty parties and bring them before a court.

We have some tough days ahead of us in which our solidarity will be tested. But in Denmark, we will never yield to violence.
UPDATE: The murder has been followed by "a shooting outside the city's main synagogue," reports the New York Times.