The Volokh Conspiracy
Mostly law professors | Sometimes contrarian | Often libertarian | Always independent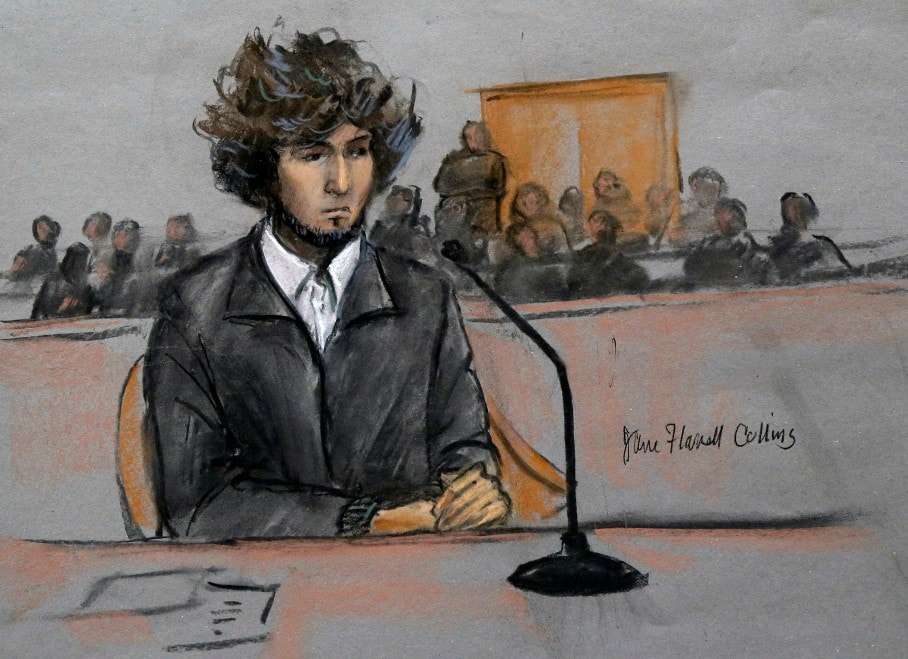 So holds today's 2-to-1 decision of the First Circuit federal court of appeals in In re Tsarnaev (1st Cir. Jan. 3, 2015), refusing to disturb the district court's decision to this effect; the district court's decision builds on its Sept. 24 decision on the matter. (The district court's most recent decision was announced Dec. 31, but the opinion was released Jan. 2.) You can see Tsarnaev's petition, which the First Circuit denied, here.
Here's the heart of the district court's analysis:
[T]he defendant appears to suggest that it would not be possible to find 18 qualified and capable jurors out of the millions who reside in the Eastern Division of the District because "victims" in this case should be construed broadly to include the Boston Marathon; the entire cities of Boston, Watertown, and Cambridge, including their residents and those involved in the events in those locations; the Marathon spectators and their families, friends, and acquaintances; and those who treated and cared for the injured….

[But] the Eastern Division is large and diverse. It certainly includes Boston, Cambridge, and Watertown—each of which contains a "diverse cross-section of ethnicities, backgrounds, and experiences"—but it is also a large district expanding significantly beyond those specific communities.
The district court relied on the Supreme Court's latest discussion of the change of venue question, from Skilling v. United States (2010), one of the Enron cases:
Important differences separate Skilling's prosecution from those in which we have presumed juror prejudice.

First, we have emphasized in prior decisions the size and characteristics of the community in which the crime occurred. In Rideau, for example, we noted that the murder was committed in a parish of only 150,000 residents. Houston, in contrast, is the fourth most populous city in the Nation: At the time of Skilling's trial, more than 4.5 million individuals eligible for jury duty resided in the Houston area. Given this large, diverse pool of potential jurors, the suggestion that 12 impartial individuals could not be empaneled is hard to sustain. See Mu'Min v. Virginia, 500 U.S. 415, 429 (1991) (potential for prejudice mitigated by the size of the "metropolitan Washington [D.C.] statistical area, which has a population of over 3 million, and in which, unfortunately, hundreds of murders are committed each year"); Gentile v. State Bar of Nev., 501 U.S. 1030, 1044 (1991) (plurality opinion) (reduced likelihood of prejudice where venire was drawn from a pool of over 600,000 individuals).

Second, although news stories about Skilling were not kind, they contained no confession or other blatantly prejudicial information of the type readers or viewers could not reasonably be expected to shut from sight. Rideau's dramatically staged admission of guilt, for instance, was likely imprinted indelibly in the mind of anyone who watched it. Pretrial publicity about Skilling was less memorable and prejudicial. No evidence of the smoking-gun variety invited prejudgment of his culpability.

Third, unlike cases in which trial swiftly followed a widely reported crime, e.g., Rideau, 373 U.S., at 724, over four years elapsed between Enron's bankruptcy and Skilling's trial. Although reporters covered Enron-related news throughout this period, the decibel level of media attention diminished somewhat in the years following Enron's collapse.

Finally, and of prime significance, Skilling's jury acquitted him of nine insider-trading counts. Similarly, earlier instituted Enron-related prosecutions yielded no overwhelming victory for the Government. In Rideau, Estes, and Sheppard, in marked contrast, the jury's verdict did not undermine in any way the supposition of juror bias. It would be odd for an appellate court to presume prejudice in a case in which jurors' actions run counter to that presumption.
The court of appeals reviewed the matter deferentially (as is the rule in these sorts of emergency pretrial "mandamus" petitions to appellate courts), concluding that "petitioner has not made the extraordinary showing required to justify mandamus relief." A dissenting judge argued that the court lacked the time to consider the issue in enough detail, but opined that,
What I do know is that Tsarnaev's argument that the entire city of Boston and its surrounding areas were victimized—as evidenced by the city's virtual lockdown and the images of SWAT team members roaming the streets and knocking door-to-door in Watertown—is compelling. At first glance, Tsarnaev makes a much stronger case for change of venue here than there was in Skilling, where a change of venue was found to be unwarranted, and McVeigh, where a change of venue was granted. Cf. Skilling v. United States, 561 U.S. 358, 370, 383 (2010) (crediting that "the facts of the case were 'neither heinous nor sensational'" and there was "[n]o evidence of the smoking-gun" of his guilt); United States v. McVeigh, 918 F. Supp. 1467, 1472, 1474 (W.D. Okla. 1996) (finding that the "emotional burden of the explosion and its consequences" on those who lived in the area but were personally unaffected created "so great a prejudice against [the] defendants in the State of Oklahoma that they cannot obtain a fair and impartial trial"); cf. also United States v. Awadallah, 457 F. Supp. 2d 246, 252 (S.D.N.Y. 2006) ("If Awadallah was actually charged with participating in the September 11 attacks, it is possible to imagine that the prejudice in this case would be comparable to the community scrutiny and outrage that justified a change of venue in McVeigh.")
Thanks to Howard Bashman (How Appealing) for the pointer.