Is Blockchain Technology a Trojan Horse Behind Wall Street's Walled Garden?
At the Bitcoin/blockchain industry's flagship annual conference, blue chip banks were out in force.
HD Download
The Bitcoin/blockchain industry's flagship annual conference was held this week in New York City, and there were 1500 attendees and 150 speakers. Eight years after this technology was first described in a nine-page paper dropped on the internet by a mysterious computer scientist, interest is suddenly exploding among blue chip financial firms, who are exploring how Bitcoin and blockchains can make their operations more efficient.
Delaware Gov. Jack Markell, a Democrat, pitched a new initiative to draw companies in this space to relocate to his state; former Treasury Secretary Larry Summers touted the blockchain's disruptive potential; and Microsoft, the once lumbering tech giant, was out in force, embracing blockchain technology with the hope of finally getting a jump on its competitors.
The mainstream interest on display was a little surreal for Erik Voorhees, a libertarian who got involved with Bitcoin in 2011, launched the gambling platform SatoshiDice the following year, and now heads ShapeShift, a cryptocurrency exchange.
"If you look at the Bitcoin/blockchain industry today, are most of them libertarians, I don't know," said Voorhees. "Mostly it's just business people, but that's fine. Business people will grow the system and to me it doesn't matter because the freedom that the asset brings to people happens on the back of the technology."
But the buzzword at this year's conference was blockchain, not bitcoin, a distinction that's indicative of mainstream misgivings about working with a system that's open for anyone to use. Many banks are partnering with companies building so-called private blockchains that mimic some aspects of Bitcoin's architecture except they're designed to be closed off and accessible only to chosen parties.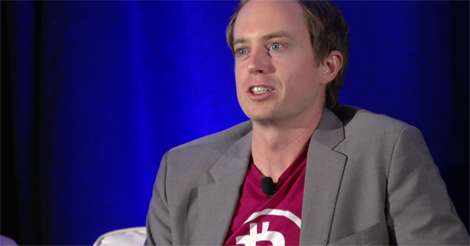 "The big companies want to improve themselves [but] they don't want to disrupt themselves," said William Mougayar, an investor and author of a new business guide to the blockchain industry that draws analogies to the early days of the internet, when open access drove rapid innovation.
"Big companies like to talk about using the blockchain without Bitcoin and using maybe 10 percent of the capabilities that Bitcoin has given us," says Mougayar. "And I think it is a mistake."
But Voorhees is confident that open and permission less blockchains will ultimately prevail even in the banking sector simply because they're more efficient.
"I have no problem with the financial industry inviting the Trojan Horse of blockchain technology into their walled garden," says Voorhees. "Because I know how powerful the technology is."
On Monday morning, just as the conference was getting underway in New York, the industry was abuzz. Craig Wright, a 45-year-old Australian computer scientist, had just publicly declared that he is Satoshi Nakamoto, the man who created Bitcoin under that pseudonym eight years ago. The claim was given credence by Gavin Andresen, the chief scientist at the Bitcoin Foundation, who flew to London last month to meet Wright and vet his story.
Meanwhile, other prominent figures in the community disputed the evidence and labeled Wright a likely imposter, including Vitalik Buterin, the creator of the popular blockchain platform Ethereum. By day two of the conference, Wright wrote on his blog that he would provide "extraordinary proof" to support his claim, and then two days later he took it back, saying that he didn't have the courage.
So why does this question bring up such strong feelings within the industry? "If you have a hero who's kind of mythical that everyone can project whatever they want onto him," says Buterin. "Whereas if it turns into a real living, breathing figure…you can criticize his tax history, and his sex life, and it's a totally different story."
Satoshi's mysterious identity helped Bitcoin attract such an ideologically diverse following by allowing its devotees to attach their own meanings to this hard-to-define technology. But most people, including Buterin, agree that today it's taken on a life of its own. "The incentives built into the system are really beautiful," says Gavin Andresen. "And so a lot of people have an incentive to make it work."
"It's gratifying to see events like this," says Andresen, who played a key role in building support for Bitcoin in its early days. "It shows that if you have a great technology and you make it open and available to the world, the world will eventually notice. It might take a few years. But people will notice."
Shot, written, produced, and narrated by Jim Epstein
About five minutes.
"BAM" by Lee Maddeford (http://www.leemaddeford.ch/listen.html). Used under an Attribution-NonCommercial-ShareAlike Creative Commons License.
Scroll down for downloadable versions and subscribe to Reason TV's YouTube Channel to get automatic updates when new stories go live.