How Jay Leno Changed the Politics of Late Night
HD Download
"I believe he did the greatest monologue ever and I think it was because of his political sensibilities," says Dave Berg, a longtime producer for Jay Leno and author of Behind the Curtain: An Insider's View of Jay Leno's Tonight Show. "Johnny [Carson] emphasized entertainers on his show. The strategy that we used to kind of expand and maybe get better ratings was to move beyond entertainers and I think this is what distinguished Jay."
When Leno debuted as the host of The Tonight Show in 1992, he quickly acted to differentiate himself from the legendary Johnny Carson and establish his own brand of late-night talk. One of the ways in which he accomplished this was to focus on political news and humor. Leno, a reported news junkie, expanded the opening monologue from seven minutes to 14 minutes to incorporate more political humor and was one of the first late-night hosts to heavily feature political pundits and politicians as guests.
From 1996 on, Leno featured every presidential candidate on his show. He made history in 2009 when Barack Obama joined him on air as the first sitting president ever to appear on late night television. Leno and Berg scored the big interview by establishing a relationship with Obama early in his career as a senator.
"Five years before he became president I was watching him speak at the Democratic Convention in Boston," says Berg. "I thought 'Oh my gosh, this guy is the best speaker I've seen since Ronald Reagan.' The next day I started calling on his people to express an interest on getting him on the show."
Producers first booked Obama in 2006 when he was promoting his book The Audacity of Hope.
Not only was Leno the first to have Obama as a guest, but he was also the first late-night host to criticize the president in his opening monologues. When the launch of ObamaCare proved to be a disaster, other late night hosts began to follow suit.
But when it came to poking fun at pols, Leno was an equal-opportunity offender. According to an analysis by the George Washington University Center for Media and Public Affairs, Leno told 10,885 jokes about Democrats and 9,465 about Republicans since 1992 (Dems were in office longer during his stint as host). Leno's favorite target was Bill Clinton as one out of every 10 jokes about politicians were about the 42nd president.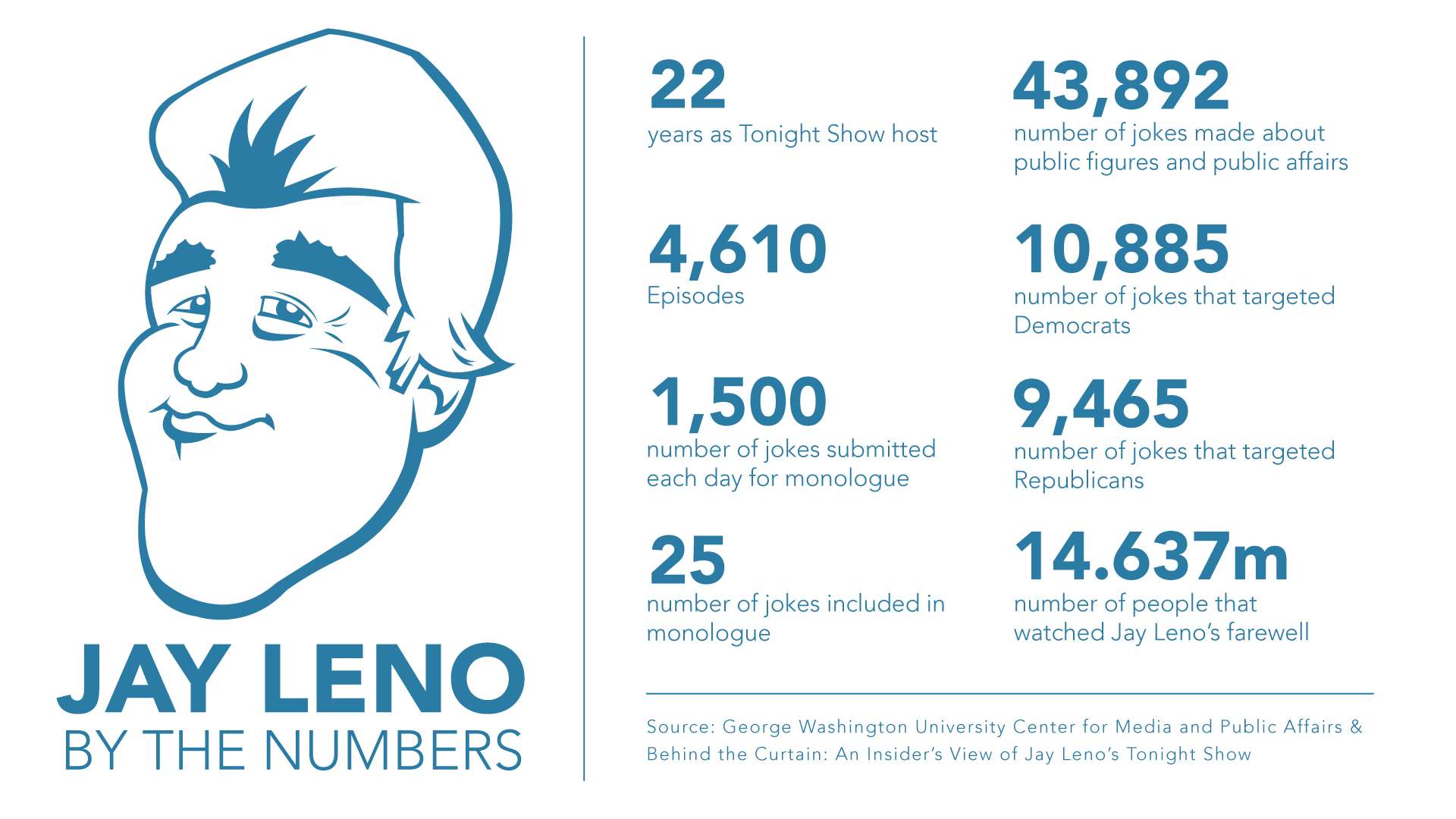 Leno's focus on politics and his everyman persona earned him the top spot in the Nielsen ratings for almost two decades. But despite his popular success, TV critics never warmed to Leno and criticized him for his milquetoast humor.
"I think that the critics early on … they said this guy doesn't have the chops. He doesn't have what Johnny Carson has," posits Berg. "And they are the ones that basically set the tone for how Jay was perceived among the elitists. What you want to do is you want to tell jokes that appeal to a broad band of viewers."
This philosophy of appealing to the masses has earned Leno the esteemed Mark Twain Prize for American Humor that will be presented to him at the Kennedy Center on October 14. "Finally, Jay gets the credit that he deserves," states Berg.
Approximately 9 minutes. Produced by Alexis Garcia. Shot by Paul Detrick and Alex Manning. Special graphics by Jason Kiesling. Music by The James Quintet.
Scroll down for downloadable versions of this video, and subscribe to Reason TV's YouTube channel for daily content like this.