What Fresh Horror Will the State of the Union Address Bring?: Podcast
What comes next in the Virginia governor scandal, why "Medicare for All" ain't happening, and how Baby Boomers are a fatberg clogging America's cultural sewers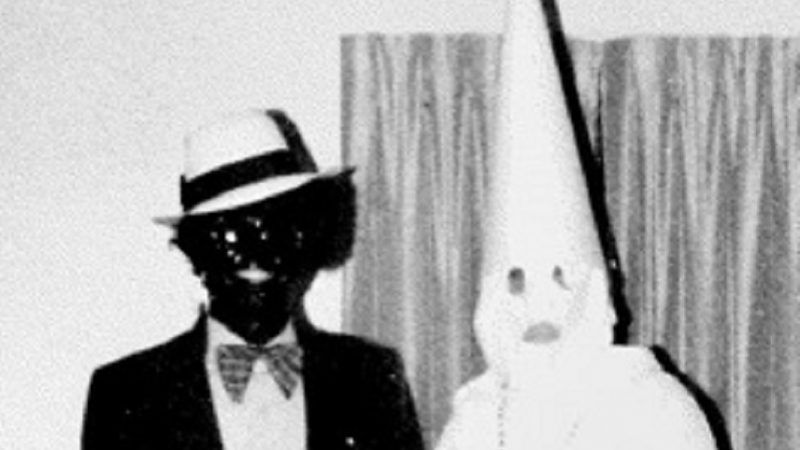 This past weekend gave witness to one of the most unimaginable political scandals of the 21st century, as yearbook photos from 1984 of Virginia Gov. Ralph Northam in either blackface or a KKK costume surfaced. Northam, 60, first apologized for the pictures and then denied he was in them. But he acknowledged that he had used blackface during a Michael Jackson dance competition in his twenties, and he seemed like he might be about to demonstrate his moves at a press conference until his wife told him not to. According to Big League Politics, the site that published the photo, a medical school classmate leaked it because of Northam's support for a bill that would have lessened restrictions on late-term abortions.
On today's Reason Podcast, Katherine Mangu-Ward, Peter Suderman, Matt Welch, and Nick Gillespie discuss whether Northam will survive and the changing politics of race. We also talk about Sen. Cory Booker (D–N.J.), the latest Democrat to announce a presidential bid, and his shift away from school choice, which he supported heavily as mayor of Newark; why Medicare for All has no chance of happening; and why baby-boom icons dominated Super Bowl ads. We also preview President Trump's State of the Union Address, which takes place on Tuesday, February 5, at 9:00 P.M. ET.
Subscribe, rate, and review our podcast at iTunes. Listen at SoundCloud below:
Audio production by Ian Keyser.
Here's a bonus set of links. Last week, Matt Welch created a Twitter poll to see whether listeners preferred the recommendations that Katherine and Peter (a.k.a. the Millennials) or Matt and I (a.k.a. the Olds) make at the end of each editor's roundtable. Here are the results of the poll and a handy-dandy chart of four months of recommended stuff, courtesy of listener Blooshier:
As Libertarians, these decisions should be made with reason, logic and data. Here's 4 months of show recommendations for people to make their vote. pic.twitter.com/Ecj7AEGLms

— Blooshier (@Blooshier) January 30, 2019
'Railroad's Whisky Co' by Jahzzar is licensed under CC BY-SA 3.0
Don't miss a single Reason Podcast! (Archive here.)
---