That Time Ayn Rand Threatened Reason with Legal Action: Podcast
One of Reason's founding editors, attorney Manny Klausner, tells tales from the early days of the magazine of "Free Minds and Free Markets."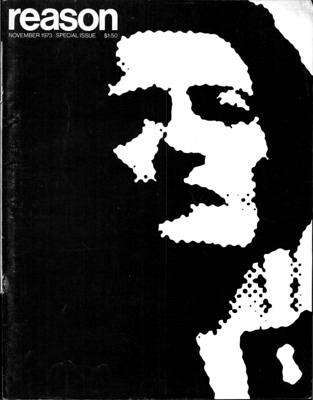 Can you imagine a lawsuit called Rand v. Reason, pitting the author of The Fountainhead and Atlas Shrugged against the nation's only magazine of "Free Minds and Free Markets"? Well, it almost happened in the 1970s.
In the latest Reason Podcast, one of our founding editors, Manny Klausner, tells me that tale, along with many stories of the early days of Reason and the libertarian movement. Attending New York University law school in the late 1950s and early 1960s, Klausner studied with Ludwig von Mises, represented the libertarian wing of the fledgling Conservative Party, and came under the influence of firebrand economist Murray Rothbard as well. While working at Reason, Klausner (archive here) produced memorable interviews with the likes of Pentagon Papers leaker Daniel Ellsberg, economist Thomas Sowell, '70s self-help guru Robert Ringer, and future President Ronald Reagan.
Founded in 1968 by Lanny Friedlander (1947–2011), Reason is celebrating its 50th anniversary by hosting a series of in-depth conversations with past editors about how the magazine has changed since its founding, what we've gotten right and wrong over the years, and what the future holds for believers in "free minds and free markets." Go here to listen to interviews with Robert W. Poole, Marty Zupan, Virginia Postrel, Matt Welch, Katherine Mangu-Ward, and me about the life and times of Reason.
Along with Poole and Tibor Machan (1939-2016), Klausner was one of the principals of Reason Enterprises, which bought the magazine from the Friedlander in 1971. He was also a co-founder of the nonprofit Reason Foundation, established in 1978, which continues to publish this website and podcast. As an attorney, Klausner participated in Bush v. Gore, the case that settled the 2000 election, and successfully defended Matt Drudge in a defamation suit brought by Clinton adviser Sidney Blumenthal. He's been active in the Federalist Society and has served as general counsel to the Individual Rights Foundation.
Subscribe, rate, and review our podcast at iTunes. Listen at SoundCloud below:
Audio production by Ian Keyser.
Photo credit: Jim Epstein.
Don't miss a single Reason Podcast! (Archive here.)