Airbnb Made D.C. Affordable for Tourists. The City Council Just Voted to Rein It In.
Hosts will be required to get a license, report their activities, and only rent properties where they reside.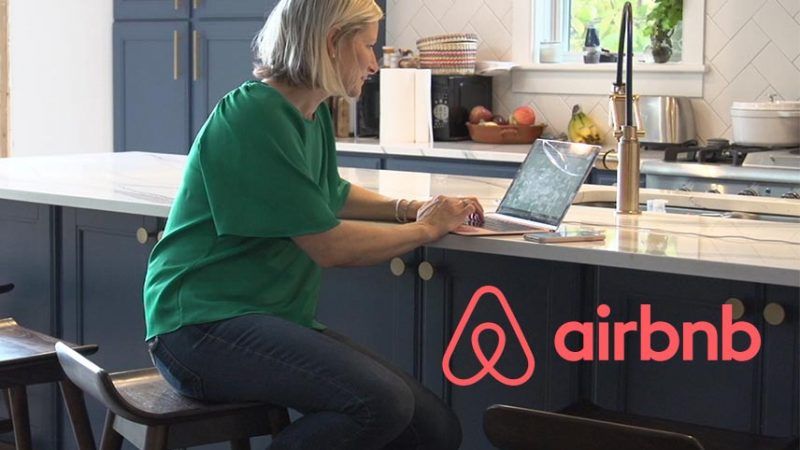 Lara Hawketts and her husband, Alex Fuentes-Gonzales, live with their kids in a two-story house in the Forest Hills neighborhood of Washington, D.C. In 2009, Hawketts lost her job working for a British consulting firm. Looking for ways to pick up extra income, Hawketts discovered that she could host short-term guests for a modest fee through a new service called Airbnb.
"They would stay in our basement," Hawketts says. "One person will be on the sofa or two people would be in the queen bed. We'd have a pullout couch and a day bed and the whole family would just squish up and they didn't care."
When Hawketts' friends and neighbors took an interest in Airbnb but shied away from all the work involved, she saw a business opportunity. Along with her husband, she started Home Sweet City, a business managing Airbnb rentals for other hosts. Today they oversee more than 60 properties.
"We just hear these amazing stories of folks that would come to the city, save for sometimes their entire lives, bring their family and it would be their one trip of a lifetime to D.C.," Hawketts says. "There was no way they could afford to stay in a hotel."
Today, a mid-scale hotel room in Washington D.C. runs on average $237 per night. For the about the same price you can rent this centrally located four-bedroom historic townhouse, or for $110 this modern basement apartment near Capitol Hill. Or, for travelers on a budget, there's this twin bed in a shared room near Dulles airport for $16.
On November 13, with the support of the hotel Worker's Union and the hotel industry's trade group, the D.C. City Council passed a bill that could have a devastating impact on the district's short-term rental market.
Airbnb hosts can no longer rent out properties in which they don't reside. Those renting out their own spare rooms and couches will be required to obtain a license, report their activities to the city on a monthly basis, and be present during a stay, with the exception of up to 90 days a year.
City Council Chairman Phil Mendelson (D) says the intent of the bill is to eliminate competition from Airbnb rentals, and make it cheaper for permanent residents to live in Washington, D.C.
"We limit the short-term rentals to a person's primary residence and prohibited to a second or third property," Mendelson says. "We think that that correlates to improving the housing supply in terms of affordability."
But there's a danger this new bill could unintentionally wipe out the Airbnb market all together.
"D.C.'s current zoning actually prohibits short-term housing in most zones, including home sharing," says Tracy Loh, a data scientist at George Washington University. Loh points out that even though most Airbnb rentals are already illegal, the city has never enforced the zoning code. This new law could change that.
"If the city gets involved in regulating Airbnb and requires the platform to register, get a permit, and share data, then they will know where Airbnb activity is happening in the city," Loh says. "That means that they'll know where there are code violations."
Hawketts says that if the zoning regulations are enforced, it would be disasterous for her family. "The fact that we rent our basement so frequently, it pays two-thirds of our mortgage"
Prior to the vote, Mendelson said all 13 memebers of the City Council sent a letter to the Zoning Commission. No changes were made to the regulations, but the Council passed it anyway.
"Some of our owners have actually just said, 'Whoa,' you know, the ones that are a little bit, nervous of the situation and want to plan ahead."" Hawketts says. "They said, "okay, we're gonna stop this and we're going to get a long-term tenant,"
"Some are completely the opposite: 'I'm going to do this, whether they try and stop me or not…I'm just going to take the risk and run with it.'"
Mendelson says that Airbnb hosts should embrace the new law because—assuming the zoning code changes— it provides a legal pathway for them to operate.
"You know we created a company out of necessity and out of sheer determination and blood, sweat and tears," Hawketts says. "We built it from nothing in a new market.
"Someone's pulling the rug out from under our feet and that that to me is, it's really sad. Just doesn't seem fair or just."
Produced by Mark McDaniel. Cameras by Todd Krainin and McDaniel.
Tar and Spackle by Blue Dot Sessions is licensed under CC BY-NC 4.0
Dance by Monplasir is licensed under CC BY 4.0
Subscribe to our YouTube channel