Who Do You Want to Lose the Midterms Most?: Podcast
If hatred is the country's main political motivator these days, you might as well lean into it.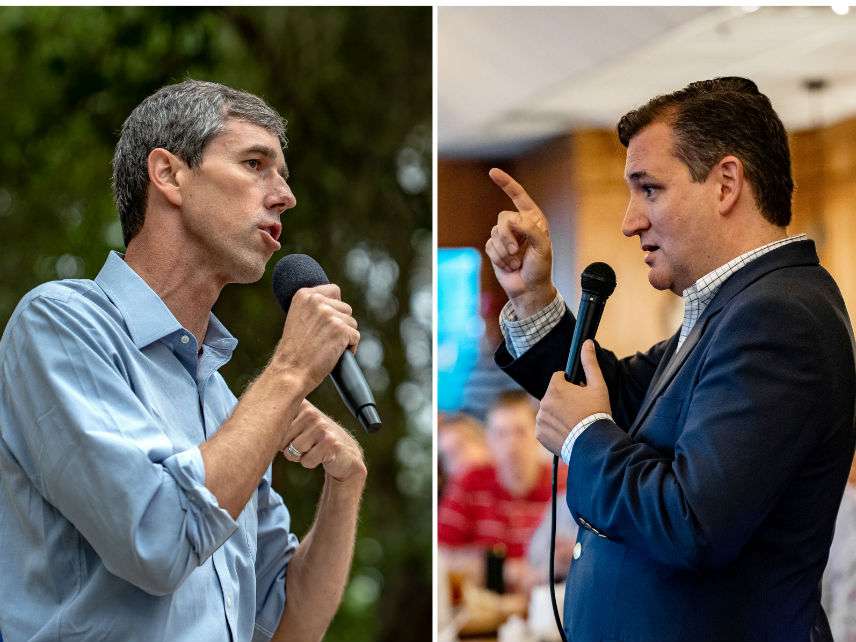 From phony Beto-mania to predictable Cruz-baggery, from Medicare-for-all to protecting Medicare, the midterm elections coming two weeks from now are enough to drive a sober man into A.M. tequila shots. So in this era of negative polarization and left/right mob mentalities, perhaps the most fitting question to ask yourself is: Who do you want most to lose?
That's what kicks off this week's editor-roundtable version of the Reason Podcast, featuring Katherine Mangu-Ward, Peter Suderman, Nick Gillespie, and myself. We name names (including those few candidates we'd like to see win), talk issues (and lack thereof), and laugh mordantly, since that's preferable to the alternative.
Subscribe, rate, and review our podcast at iTunes. Listen at SoundCloud below:
Audio production by Ian Keyser.
'realest year 9' by Black Ant is licensed under BY NC SA 3.0
Relevant links from the show:
"The Only Remarkable Thing About Beto O'Rourke Is How Much the Media Love Him," David Harsanyi
"Desperate to Keep His Seat, Ted Cruz Gets Dumber and Dumber on Criminal Justice," by Jacob Sullum
"Steve King's Fear of Immigrants Is Ignorant of History," by Steve Chapman
"Rep. Duncan Hunter Uses Campaign Funds for Steam Games and Hawaiian Shorts," by Zuri Davis
"Ron Paul–Backed Libertarian Senate Candidate Murray Sabrin Not Getting Polled Despite Running Against Robert Menendez," by Matt Welch
"Libertarian State Senator Wants to Make it Easier for People With Criminal Records (And Everyone Else) to Work," by Brian Doherty
"Libertarians Cover the Polling Spread in 4 Senate Races," by Matt Welch
"Gary Johnson Out-Fundraising Republican Opponent Mick Rich," by Matt Welch
"Rep. Justin Amash Slams 'Pathetic' Spending Bill, Reminds Trump of His Pledge," by Joe Setyon
"Eric Brakey, Republican Senate Candidate in Maine, Endorses Gary Johnson," by Matt Welch
"Despite—or Maybe Because of—Trump's Immigration Crackdown, Record Number of Families Crossing Southern Border," by Nick Gillespie
"Donald Trump Defends Medicare, a Socialist Program, from the Threat of Socialism," by Peter Suderman
"Hillary Clinton, Donald Trump, and Why Civility Can't Return To Politics," by Nick Gillespie and Todd Krainin
"Proud Boys, Antifa Clash Again on Portland Streets," by Christian Britschgi
"Attack Ads, Circa 1800," by Meredith Bragg
"The Collectivist Election," by Matt Welch
"To Curb Political Violence, Make Government Less Important," by J.D. Tuccille
Don't miss a single Reason Podcast! (Archive here.)
---