Meet Bari Weiss, the Conservative New York Times Columnist Who Is Pro-Choice: Podcast
She's pro-Israel, #NeverTrumper who has chronicled (and criticized) the "intellectual Dark Web." Prefabricated ideological boxes need not apply.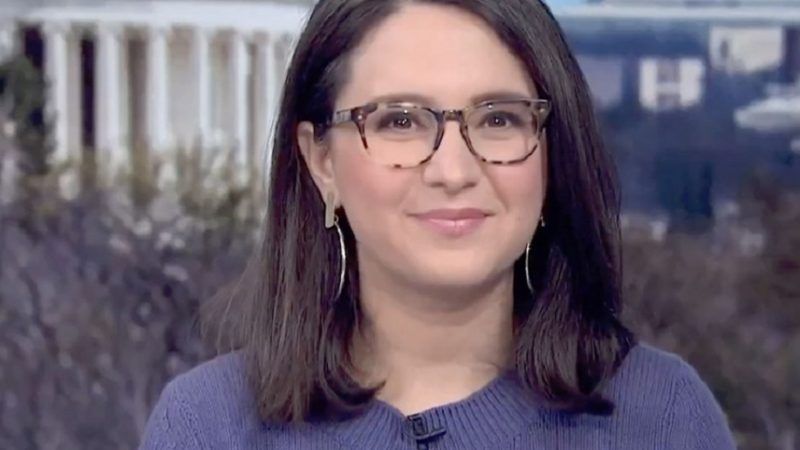 By the time she arrived last year at The New York Times to help write and edit its Opinion section, 34-year-old Bari Weiss had already done stints at the online magazine Tablet and The Wall Street Journal. She had also made a number of enemies who accused her of being a narrow-minded, right-wing, pro-Israel, anti-Arab bigot. Far from bringing some fresh ideas to The Gray Lady's leftish commentary section, her hire, wrote The Intercept's Glenn Greenwald, emodied the paper's "worst failings—and its lack of viewpoint diversity."
In Greenwald's reading, Weiss "has churned out a series of trite, shallow, cheap attacks on already-marginalized left-wing targets that have made her a heroine in the insular neocon and right-wing intelligentsia precincts." Her widely read pieces about the identity-politics excesses of a lesbian march in Chicago and of the #MeToo Movement, and her chronicling of the "intellectual Dark Web" didn't represent anything new, just more of the same. Greenwald wrote an attack on Weiss's student days at Columbia, claiming that she defamed anti-Israel professors as racists and tried to silence them academically. That charge prompted National Review's David French, who in a previous life was the president of The Foundation for Individual Rights in Education (FIRE), to write that Greenwald and others were "sliming" Weiss.
I sat down to talk with Weiss at FreedomFest, the annual gathering of libertarians held every July in Vegas. She was in town to attend the Reason Media Awards because she was a finalist for the Bastiat Prize which "honors writing that best demonstrates the importance of freedom with originality, wit, and eloquence. Indeed, she took home the top prize, besting finalists Jake van der Kamp of South China Morning Post, Conor Friedersdorf of The Atlantic, Gustavo Arellano of The Los Angeles Times; and Bonnie Kristian of The Week. We talked about Israel and Jewish identity in America and her work, why she considers herself a liberal (among other things, she's pro-marriage equality and abortion), how to avoid becoming the cartoon version of your most-outspoken critics, and more. She's no libertarian, but she's also nobody's conventional liberal or conservative either.
Subscribe, rate, and review our podcast at iTunes. Listen at SoundCloud below:
Audio production by Ian Keyser.
Don't miss a single Reason Podcast! (Archive here.)