A Libertarian Take on John McCain's Restless Wave and the Legacy of an 'Authoritarian Maverick': Podcast
McCain biographer Matt Welch talks about the Arizona Republican's latest book and personal crusades.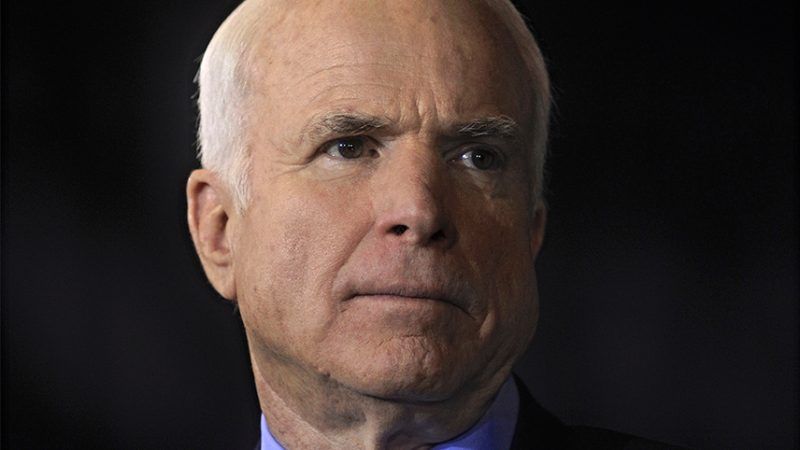 Few politicians have made more of an impact on their times than Arizona Sen. John McCain, who is battling brain cancer.
His new book, The Restless Wave: Good Times, Just Causes, Great Fights, and Other Appreciations, has just been published and is already making news. In it, the 81-year-old former prisoner of war and torture survivor talks frankly about Donald Trump, the mainstream media, and his congressional colleagues. Throughout his career, McCain positioned himself as a centrist and a "straight talker"; his pushes for campaign finance laws and military interventions put him at odds with libertarians even as he was friendly toward immigration and trade.
In the latest Reason Podcast, Nick Gillespie talks with Matt Welch about McCain's life and legacy. In 2008, when the senator was the Republican nominee for president, Matt published McCain: The Myth of a Maverick, a tough-but-fair assessment that had its origins as a 2007 Reason cover story called "Be Afraid of President McCain: The frightening mind of an authoritarian maverick." No one is more qualified to talk about John McCain's life and legacy than his biographer, Matt Welch.
Subscribe, rate, and review our podcast at iTunes. Listen at SoundCloud below:
Audio production by Ian Keyser.
Photo credit: Christopher Fitzgerald/Chris Fitzgerald/CandidatePhotos/Newscom
Don't miss a single Reason Podcast! (Archive here.)